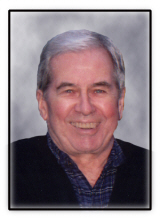 Obituary for Harold "Hal" Schenne
Harold "Hal" Schenne, 91, of Mapleton, Iowa passed away Tuesday, February 9, 2016, at Maple Heights Nursing Home. Services in the form of a Burial Remembrance for both Hal and his wife, Trudy, will be performed at Mount Hope Cemetery in Mapleton on Saturday, June 11, 2016 at 11:00 a.m. with Pastor Jena Manchester officiating. Military honors will be provided by the American Legion Loren Hollister Post #496 of Mapleton.
Harold Alan Schenne was born January 1, 1925, the son of August and Martha (Ast) Schenne at Buffalo, New York. He was raised in West Falls, New York, where his family owned and ran the regional favorite - The Dog Bar Restaurant. Graduating from Bennett High School in Buffalo, New York at age 17 and because World War 11 was raging, Harold told a white lie about his age and enlisted into the Army Air Corps in 1942. He completed flight training in Sioux City, Iowa, but due to the abundance of pilots, he was trained as a Navigator/Bombardier in the "Military Eighth" 385th Bomb Group serving in the 551st Bomb SQDN. He then flew in a B-17, stationed in England during the end of World War 11, participating in combat missions and when the war ended, flew relief supplies to locations in Europe. Harold was recognized with multiple medals for his service and bravery.

After W.W.II, he served in the Air Force where during the Korean War, he flew 69 missions in 90 days as a Navigator/Bombardier. He was assigned to a top secret group which using captured German technology involving thermal imaging and eventually was developed into the heat seeking missile program. After a number of years serving his country, Hal chose to be discharged from the Air Force and honorably returned home to West Falls, New York. His interests included Stock Car racing, flying and Swing/Big Band music. He then married his first wife, Elmirinda (Ellie) and had two children, Harold Schenne, Jr. and Mary Schenne. Hal and his family decided to move to Las Vegas, Nevada in the late 1950's. Although the marriage dissolved, Hal remained in Las Vegas working as a bartender in many of the top hotels, such as the Riviera, The Union Plaza, and The Dunes.
Sometime in 1963, Hal was contacted by a classmate from Bennett High School who was loving in southern California and was invited to come down for a weekend visit. While attending a dance, he was introduced to Trudy (Oser) Sirianni. After his first date Hal vowed his love and one year later, Hal and Trudy were married at the Little Chapel of the West on the Las Vegas Strip, February 1964. She had three children and together, Hal and Trudy had a son, Alan Schenne. The families joined and the children were raised in Las Vegas. Hal worked the majority of his bartending career at the Riviera Hotel at the Delmonico Bar, where he met the world famous entertainment and sports stars who often shared an autographed picture with Hal, the first of what we know as a "selfie". During his time in Las Vegas, he also became licensed Real Estate Broker and was involved in many residential and commercial deals, the biggest being the sale of the Landmark Hotel.
Harold always had a lifelong passion for automobiles and had a unique ability to identify any car's make and model, often amazing his friends. Hal was an avid reader and also enjoyed cinema. At home he was a landscaper enthusiast always tending to the details of the yard while planning and building his next waterfall and pond. From its origin, the soap opera "Days of Our Lives" was a time in Hal's day that he dedicated to relax and follow the characters until the time of his death. Hal enjoyed photography and took pictures with his 35mm camera and enjoyed sharing those images with family and friends. He was an avid pet lover and always had a pet cat or dog.
Harold and Trudy moved to the Redondo, Washington area in 1988, to be near their son, Alan while he was attending the University of Washington. In 2003, Dr. Alan Schenne and his wife Dr. Jennifer Schenne had their first daughter, Maya. Hal and Trudy volunteered their daily assistance in taking care of Maya's needs while her parents were at work. In 2005, the Schenne family, including Hal and Trudy, relocated in Sioux City, Iowa, where Alan and Jennifer's second daughter, Marley, was born in August. They then purchased a home in Mapleton, Iowa to be near the young family and to be involved in their young lives. Trudy disliked Iowa's harsh winters and Hal and Trudy moved back to Kent, Washington for it's mild climate. Both were involved in a car accident, which caused them to move back to Las Vegas to near extended family. Unfortunately Trudy had a stroke and soon passed away.
With his love of the people and the countryside, Hal once again returned to Mapleton. Being a dedicated meat and potato lover he cherished the "Hot Beef" at the Beef N Brew on Main Street in Mapleton. He lived in an apartment independently with with his pet cat, Callie the Calico. In June of 2015, he became a resident of Maple Heights Nursing Home in Mapleton, where he enjoyed interacting with individuals from his era, while still watching "Days of Our Lives" daily. He pasted on Tuesday, February 9th, 2016, due to complications of a hip fracture.
He was an adventurous, spontaneous, magical man. Hal taught people in his life to live life to it's fullest and to never speak badly of anyone. He will be missed by family and friends alike.
Survivors include three children, Dr. Alan Schenne and his wife, Dr. Jennifer Schenne of Mapleton, Iowa, Harold Schenne, Jr. and his wife, Pepper of North Carolina, and Mary Electra of Vermont; two granddaughters, Maya and Marley Schenne of Mapleton; three step children, Mark Sirianni and his wife, Sherry of Las Vegas, Nevada, Craig Sirianni and his wife, Karen of Laguna Beach, California, and Lynne Nuchereno and her husband, Phil of Bose, Idaho.
Read More