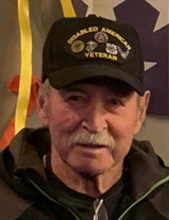 Obituary for Henry Gilbert Starkel
Henry G. Starkel, age 81, of Mapleton, Iowa, (formerly of Norfolk, NE) passed away on Wednesday, July 30, 2020, at his residence of Mapleton, Iowa.

Memorial service for Henry (Huck) Gilbert Starkel, 81, of Norfolk and Mapleton, Iowa will be held at 10:30 a.m., Saturday, August 22, 2020 at the Stonacek Funeral Chapel in Norfolk with Pastor Lee Weander officiating. Inurnment will be in Prospect Hill Cemetery in Norfolk. Visitation will begin at 9:30 a.m., one hour prior to the service at Stonacek Funeral Chapel. Stonacek Funeral Chapel in Norfolk is in charge of the arrangements. Condolences may be sent online to www.armstrongfuneral.com or www.stonacekfuneralchapel.com.

Henry (Huck) Gilbert Starkel was born February 27, 1939, to Henry A. and Elizabeth (Schwindt) Starkel in Norfolk. Henry was one of 11 siblings. He was 18 years old when he signed up for the National Guard with his best friend Jerry Tierney. He stayed in the National Guard for 1 year then joined the United States Army with best friend, Jerry Tierney. He received his GED while in the Army.

He married Glenda Barbara Ann Bowers on May 2, 1958. They were blessed with five children: Terry, Kevin, Lori, Kellye and Jeremy. As soon as they got married in 1958 he left for Army bootcamp. He was in bootcamp in Ft. Leonard Wood Missouri. He then was stationed in Ft. Ord California, Ft. Roberts, and Ft. Lewis Washington for more training.

He then was transferred to Ft. Hood Texas in the Armored Division and on to Ft. Benning for Jump School. He went onto Ft. Bragg for Special Forces Training as a Green Beret. As a Green Beret he was then stationed in Vietnam for two years.

He received his National Defense Service Medal, Sharpshooter Rifle Medal, Vietnam Service Medal and the Vietnam Campaign Medal. While in the Army he also enjoyed playing the guitar and entering singing contests while in the service. In 1968 he got out of the Army and moved back to Norfolk, Nebraska.

When he returned to Norfolk he enjoyed playing the guitar and singing at the Shady Inn/Riverside in Norfolk. While there he was offered a job to sing in a band in Dallas, Texas but turned down the opportunity because by that time he had three children.

After the Army he worked at Henningsen Foods. After that he went to work as the Senior maintenance man at Midwestern Beef Packing House/Dugdale/Beef America in Norfolk until the year 2000 when he retired from the Packing House.

In between the Beef Packing House he worked as an Electrician at Nucor Steel for four years.
After getting divorced he moved to Mapleton, Iowa to be close to his best friend Jerry Tierney.
Henry loved to ride his Harley Davidson motorcycle and attend the Motorcycle Rallies in Sturgis, SD. He loved listening and singing to Country Music. His son Jeremy followed in his father's footsteps for the love of singing and playing Country Music. His grandson Colton Staudenmaier followed in his footsteps of serving in the United States Army, currently active duty. He said he was most proud of and enjoyed all of his children and grandchildren.

He is survived by his children, Kevin (Jeannie) Starkel of Norfolk, Lori (Greg) Staudenmaier of Norfolk, Kellye Starkel of Norfolk, Jeremy (Kristin) Starkel of Norfolk, daughter-in-law Beth Starkel of Phoenix, Arizona, grandchildren Melissa Bolt, Chasity (Kevin) Johnson, Hannah (Steve) Oldkow, Beau (Jordan) Starkel, Ben Starkel, Ian Starkel, Caleb Starkel, Cierra Starkel, Alex Starkel, Skyler Starkel, Nick Staudenmaier, Zach Staudenmaier, Colton Staudenmaier, Austin Schmit, Caydun Schmit, Kahzryn Schmit, and Jackson Avery; 11 great-grandchildren; siblings Roger Starkel of Casa Grande, Arizona; JoAnn Johnson of Norfolk and Sharon Godel of Phoenix, Arizona.

He is preceded in death by his parents, Henry and Elizabeth; parents-in-Laws, Glen & Lisetta Bowers; siblings: Irene, Marjorie, Delores, Leonard, Laverne, Duane, Walter, son Terry Starkel and best friend Jerry Tierney.

Memorials can be sent to 702 N. 19th Street, Norfolk, NE 68701. Condolences may be expressed to the family online at www.stonacekfuneralchapel.com.
Read More