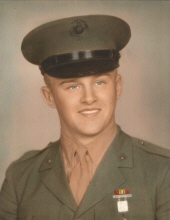 Obituary for Wayne S Gibbs
Wayne S. Gibbs, age 70, of Ute, Iowa, passed away on Monday, May 28, 2018, at his residence of Ute, Iowa.

A Private Family Graveside Service will be held in the St. Clair Township Cemetery of Ute, Iowa; with Rev. Chris LaBoube officiating. The Armstrong-Van Houten Funeral Home of Ute, Iowa is in charge of the funeral arrangements. Condolences may be sent on line at armstrongfuneral.com

Wayne Steven Gibbs, the son of Ervin and Grace (Hughes) Gibbs, was born on May 30, 1947, in Ute, Iowa. He was baptized and confirmed in his faith at the St. Paul's Lutheran Church of Ute.

Wayne grew up 6 miles south of Ute on the family farm and graduated from Charter Oak- Ute High School with the class of 1966. After graduation Wayne enlisted in the United States Marine Corps in Omaha, Nebraska on September 6, 1966. He served his country and was honorably discharged from MCAS El Toro in Santa Ana, California on March 22, 1968, after the death of his father Ervin. He was awarded a National Defense Medal, Vietnam Service Medal and a Good Conduct Medal.

Upon returning home, Wayne went into farming with his uncle Herb. After his uncle passed away, Wayne decided to continue his education and enrolled in the Spartan School of Aeronautics in Tulsa, Oklahoma. He graduated with his Aircraft Accident Insurance Investigation and Adjuster diploma on April 25, 1969.

After graduation he returned to Iowa where he worked for a local co-op before becoming employed with the Iowa DOT. Wayne was a dedicated and hardworking employee, after 25 plus years with the DOT he retired.

Wayne liked watching old westerns and military movies. He also enjoyed horses, collecting guns, and spending time with his nieces and nephews.

He is survived by his sister Georgia (Rick) Harm of Sioux Falls, SD; niece Angela (Todd) Teut of Ute, IA; nephews John (Janyce) Woodard of Homer, NE and Michael (Ashley) Meyers of Newcastle, NE; brother-in-law Aaron Meyers of Ponca, NE; great nieces and nephews: Elizabeth, Ethan, Morgan, Wyatt, Connor, Brianna, and Erna; extended family and friends.

Wayne was preceded in death by his parents Ervin and Grace Gibbs; sister Barbara Meyers; and his maternal and paternal grandparents.
Read More