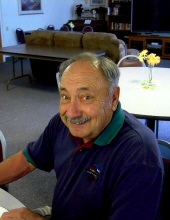 Obituary for Vernon E. Klaus
Vernon E. Klaus, age 77, passed away on Thursday, March 11, 2021.

A Private Family Graveside will be held Saturday, June 12, 2021, in the St. Clair Township Cemetery of Ute, Iowa. The Armstrong - Van Houten Funeral Home of Ute, Iowa, is in charge of the funeral arrangements. Condolences may be sent online www.armstrongfuneral.com.

Vernon (Vern) Edward was born on March 17, 1943, in Ute, Iowa to Willie (Wilhelm) and Elsie Klaus. He grew up with his brother, William (Bill), on the family farm near Bronson, Iowa. Vern graduated from the Bronson High School in 1961.

In the mid-1960s he relocated to Boulder, Colorado where he eventually opened his mechanic and service station business, The Sinclair Station across the street from the Boulder Community Hospital. He served during Vietnam in the late 1960s in Washington D.C. as part of the Army. He met and married Dianne (Eleanor Diana) in 1969 in Boulder, Colorado. Their only child, Paula Ann, was born in Boulder in 1972. After selling the service station business he worked for Boulder County till the time of his retirement. In 2006 at which time he moved to Longmont, CO. Vern enjoyed golfing, his coin collection, and his annual seasonal vegetable garden. He was living in Longmont at the time of his passing on March 11, 2021.

He will be interred in Iowa with his parents at St. Claire Township, Ute, Iowa.

He is survived by his brother, William (Bill) Klaus of Ute, IA; former spouse, Dianne Klaus of Kansas; his daughter Paula (Reeves) Little of Bellevue, WA and many nieces and nephews.

He is preceded in death by his parents Willie and Elsie Klaus.
Read More