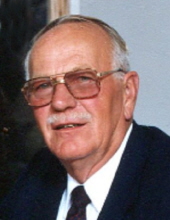 Obituary for Vernal L. Weber
Vernal L. Weber, 83, of Mapleton, Iowa, passed away Monday, July 3, 2017, at the Maple Heights Nursing Home of Mapleton, Iowa.

A Funeral Mass will be held at 10:30 a.m., Monday, July 10, 2017, at the St. Mary's Catholic Church of Mapleton, Iowa. Father Richard D. Ball will officiate; Committal Services will follow in the St. Clair Township Cemetery of Ute, Iowa. A visitation will be held from 2:30 p.m. to 5:00 p.m., with a Knights of Columbus Rosary at 2:45 p.m. and a Vigil Service at 5:00 p.m. on Sunday, July 09, 2017, at the St. Mary's Catholic Church of Mapleton, Iowa. The Armstrong - Van Houten Funeral Home of Mapleton, Iowa is in charge of the funeral arrangements. Condolences may be sent online www.armstrongfuneral.com



Vernal Louis Weber was born on February 20, 1934, to John and Anna (Klein) Weber of Danbury, Iowa. Vernal was born with his twin sister Helen, number eight and nine of 12 children born to John and Anna. Vernal attended St. Mary's Catholic School and played basketball in his high school years at St. Mary's. He graduated with the class of 1951 from Danbury Catholic High School.
Vernal worked for his dad on the Weber Homestead until 1954 when he was drafted into the military. He served as an SP3 in the U.S. Army 7th Army Training Command. He was stationed in Germany. While overseas Vernal traveled to Switzerland, Holland and Italy. He was honorably discharged on January 31, 1956.
Vernal married Katherine (Seaton) on January 4, 1958. Vernal and Katherine moved onto the Weber Homestead to farm. They raised their five children Stephanie, Kenneth, Perry, Melinda and Craig. The family lived there until they moved to Mapleton, Iowa in 1969. Vernal worked for Simonsen Ag Foods & Chemicals. The couple later parted ways in September of 1978.
Vernal did custom farming until he landed a position with Monona County around 1984. Vernal belonged to the American Legion Post #496 for seventeen years and then became an honorary member. He was also a member of the Knights of Columbus for many years. Vernal married Evonne (Olson) Hanigan on August 24, 1991. They lived on the Olson Homestead. They later moved to Denison, Iowa. The couple parted ways in December of 2009.
Vernal was preceded in death by his parents John and Anna; brothers Donald "Bud", James and Raymond; and sisters Mary Ann Schoenherr, Lois Seuntjens, Martha Holloran, Irma Sokolowski and Helen Thiel.
Left to cherish his memory are his five children Stephanie Weber of Omaha, NE, Kenneth Weber of Bellevue, NE, Perry (Deb) Weber of Elkhorn, NE, Melinda (Charlie) Ruperto of Des Moines, IA, and Craig (Cherry) Weber of Omaha, NE; 12 grandchildren; brother Leo (Helen) Weber; sisters Alice Weber and Carol Barkley; brother-in-law Tom Thiel of Renton, WA; sister-in-law Ellen Weber of Danbury, Iowa; and extended family and friends.
In lieu of flowers memorials can be directed to the family.
Read More
Previous Events
Visitation
St. Mary's Catholic Church Mapleton
201 N 8th Street
Mapleton, IA 51034
Knights of Columbus Rosary 2:45 p.m. Vigil Service 5:00 p.m.
Funeral Service
St. Mary's Catholic Church Mapleton
201 N 8th Street
Mapleton, IA 51034