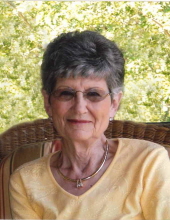 Obituary for Shirley L. Theobald
Shirley L. Theobald, age 93, of Mapleton, Iowa, (formerly of Ute, Iowa) passed away on Friday, June 10, 2022, at Maple Heights Nursing Home of Mapleton, Iowa.

A Graveside Service will be held at 11:00 a.m., Friday, June 17, 2022, at the St. Mary's Catholic Cemetery of Mapleton, Iowa. Hospice Chaplain Dale Wolf will officiate.

The Armstrong - Van Houten Funeral Home of Mapleton, Iowa is in charge of the funeral arrangements. Condolences may be sent online www.armstrongfuneral.com.

Shirley (Sankey) Theobald, daughter of H.L. "Pete" and Goldie (Bresler) Sankey, was born on August 9, 1928. After living the majority of her life in Ute, Iowa, she passed away at the Maple Heights Nursing Home of Mapleton, Iowa, on June 10, 2022, at the age of 93.

A graveside service will be held at St. Mary's Catholic Cemetery in Mapleton where she will be laid to rest next to her husband, Harlan Theobald, whom she married on February 26, 1949.

Shirley was an important part of her community, local school, church, and family. After graduating from Ute High School with the class of 1945, Shirley went on to further her education in cosmetology. She returned home to Ute where she worked as a hair stylist. In 1955 (until her retirement) she began working with the Ute (Charter Oak-Ute) school district as a secretary. The staff and students alike loved to hang out in the office just to talk with her. The Class of 1959 honored her by dedicating their yearbook to her.

She was an active member of the Christian Church of Ute and the Ladies Aid. As a member of the quilting club, which included her mother and aunt, Shirley helped make many beautiful quilts.

Shirley loved to play games, during which her laughter could always be heard. Her favorite card game was euchre, which she played with her family and card clubs whenever she had the opportunity. The family was blessed to have a big backyard, where kids, parents, grandparents and relatives would play kickball and wiffle ball home run derby. Whenever the time came to eat, Harley's grilling and Shirley's cooking (especially the potato salad and desserts) would add a special touch to the day.

During the last several years, Shirley lived in Mapleton with her husband and mother, caring for them until their passing. She then resided in the Sunset Apartments until she relocated to the Maple Heights Care Center. Shirley's family will be forever grateful for the outstanding care she received from the entire staff during her final few years. She made many new friends, among them her special roomie Marge.

She is survived by her three children and their families: Ken (Kathy) Theobald of Webster City, IA, and their two daughters: Jayde (Dan) Delano of Astoria, Oregon; Shannon (Garey) Bryan and their two daughters: Morgan and Maddie of Story City, IA. Becky (Terry) Nielsen of Omaha, NE, and their two children: Jenna (Alex) Mether and their two daughters Aven and Elle of Council Bluffs, IA; Craig (Diana) Nielsen and their two sons: Ashton and Jens of Omaha, NE. Doug (Candace) Theobald and their two sons: Kade and Dane (Addi) of Omaha, NE.

She was preceded in death by her husband Harlan Theobald; parents Pete and Goldie Sankey; brother Sherwin (Irma) Sankey; and niece Anita Sankey.

Throughout her life, Shirley forged and maintained strong relationships with her family, her friends, and her faith. Hers was a life well lived.
Read More