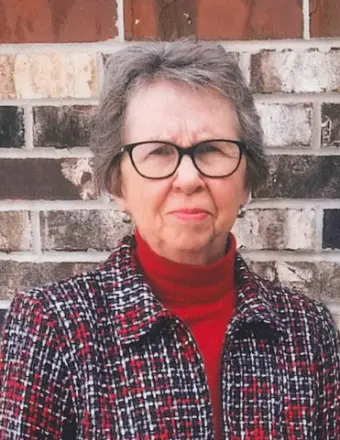 Obituary for Shirley A. Scoles
Shirley Scoles, age 80, of Mapleton, Iowa, passed away on Sunday, November 12, 2023, at her residence of Mapleton, Iowa.
A Celebration of Life will be held at 10:00 a.m., Saturday, November 18, 2023, at St. Matthew Lutheran Church of Mapleton, Iowa. Rev. Nathan Peitsch & Rev. Brian R. Scoles will officiate. A private family inurnment will take place in the Mount Hope Cemetery of Mapleton, Iowa.
A Visitation will be held from 5:00 p.m. to 7:00 p.m., Friday, November 17, 2023 at Armstrong – Van Houten Funeral Home of Mapleton, Iowa.
In lieu of flowers, memorials may be directed to Burgess Hospice, 1600 Diamond Street, Onawa, Iowa 51040 or the St. Matthew Lutheran Church 504 Walnut Street, Mapleton, Iowa 51034.
The Armstrong - Van Houten Funeral Home of Mapleton, Iowa, is in charge of the funeral arrangements. Condolences may be sent online www.armstrongfuneral.com.
After suffering with cancer for several months Shirley Scoles was called to her heavenly home on Sunday, November 12, 2023.
Shirley was born on August 30, 1943, on a farm near Battle Creek, Iowa, to Carl C. and Sylvia M. (Scheer) Wasmund. Shirley grew up on the farm outside of Battle Creek until the family relocated in 1955 to the Wasmund family farm near Castana, Iowa. She attended Mapleton High School (class of 1961).
Shirley then started working in town at the Griffin's Wagon Wheel located on Main Street in Mapleton. Little did she know that she would soon meet the love of her life while walking down the sidewalk to work one day. He was home on leave from his military service and what started as a simple "Hello" blossomed into a first date to the movies. Grant returned to Arlington, Virginia and their courtship continued through letters and phone calls and the rest is history. Shirley and Grant were united in marriage at St. Matthew Lutheran Church on June 28, 1963.
The couple made their first home in Virginia, where Grant served with the Honor Guard at Arlington National Cemetery. Following the completion of Grant's military service, the couple briefly moved to Ute, Iowa. They then moved to Mapleton, where they settled in to what would become their home for the next 60 years. With a house full of love and memories, Shirley and Grant treasured raising their three children together.
One of Shirley's true loves was flower gardening. Many enjoyed seeing her daily Facebook posts of her flowers in bloom and the weather report. She cherished her annual day-long plant shopping trips with her daughter Peggy, often returning with a truck overflowing with new treasures. She also enjoyed her weekly check-ins with her boys and looked forward to her Thursday coffee group gatherings. Shirley was also an avid baker and cook. A family secret recipe and favorite was chocolate dumplings. She delighted in good cook books and recipes.
Shirley was a devoted member of the St. Matthew Lutheran Church of Mapleton, where she also served as the secretary for 36 years before retiring in 2008.
Shirley continued the family tradition as a National Weather Service Volunteer Community Observer. She was a 5th family member to do so, carrying on the service that spanned 86 years, dating back to 1937. She was proud to be able to continue to do so up until two weeks before her passing.
Left to cherish her memory are her devoted husband of 60 years, Grant Scoles of Mapleton, Iowa; children: Peggy (Richard) Hanner of Sloan, Iowa, Brad (Sarah) Scoles of Oakland, Nebraska and Brian (Alaine) Scoles of St. Paul, Minnesota; grandchildren: Amy (Tyler) Wyant of Council Bluffs, Iowa, Jenny Scoles of St. Paul, Minnesota and Paul (Kaitlin) Scoles of Anoka, Minnesota; great grandchildren Camden and Gage Wyant; brother-in-law Roger Scoles; nieces, nephews, and friends.
Shirley was preceded in death by her parents Carl and Sylvia (Scheer) Wasmund; sister Dora Wren (Fred Rehse and David Wren); father-in-law Ralph Scoles; mother-in-law Caroline Elizabeth (Henry) Scoles; and sister-in-law Ruth (Bergeson) Scoles.
Read More
Previous Events
Visitation
Armstrong - Van Houten Funeral Home - Mapleton
210 South 5th Street
Mapleton, IA 51034
Celebration Of Life
St. Matthew Lutheran Church
504 Walnut Street
Mapleton, IA 51034