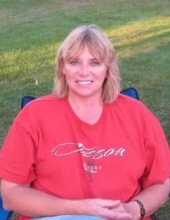 Obituary for Rose Jacobson
Rose Jacobson, 61 of Mapleton, Iowa, passed away Monday, May 16, 2016 following a diagnosis of brain cancer and the brave six month battle that followed. The funeral service will be Friday, May 20, 2016, at 10:30 a.m. at St. Matthew Lutheran Church in Mapleton, Iowa with Pastor Marcus Manley officiating. Burial will be in Mt. Hope Cemetery at Mapleton. Visitation will be Thursday, May 19, 2016 after 5:00 p.m. with a prayer service at 7:00 p.m. at the Armstrong Funeral Home in Mapleton. The family is receiving condolences on line at www.armstrongfuneral.com.

Rosetta Mae "Rose" Jacobson, was born July 31, 1954, at Sac City, Iowa, the daughter of Melvin and Helen (Woebke) Ladwig. She grew up and attended school at Battle Creek, Storm Lake, and graduated from Ida Grove High School with the class of 1972. As an athlete in high school, Rose's basketball team qualified for the State Tournament and she also qualified for State in shot put on the track team.

On June 2, 1972, Rose and Bruce Jacobson were united in marriage at St. Paul Lutheran Church in Ida Grove, Iowa. They had four sons. The family first lived on a farm north of Mapleton for about ten years and have lived in Mapleton since that time.

Rose was a dedicated employee of Maple Heights Nursing Home in Mapleton for 34 years, starting as a CNA and progressing to the title of Environmental Supervisor. For a short time she worked at Burgess Home Health and proved to be a great cleaning person for those lucky enough to get her. For the past eight years, she was happily employed in Sioux City by Mid Step Services as a Residential Supervisor. She was loved and appreciated by both the consumers and employees at Mid Step.

Rose was the greatest fan to all of her boys. From the time they were in little league until Brandon's college days were over, Rose never missed their games. With the growth of her family, Rose also enjoyed attending all of her grandkid's school and sporting activities. She liked doing crafts with them, making cookies at the holidays and those special trips to the store for a toy. Her grandkids were her greatest love!

She was a member of St. Matthew Lutheran Church in Mapleton where she was active with the ladies group. She enjoyed playing softball with the the team, "Betty's Bloopers", league bowling, and camping with family and friends. She also was an avid dog lover. Rose was a great person who instantly made friends and was eager to help everyone. One of her best traits was to make everybody laugh and smile around her. She was loved by many and will be missed by all of us!

Those left to embrace their loving memories of Rose are Bruce, her husband of 43 years; her sons, Scott Jacobson (Andrea Burgess) and Jon Jacobson (Dawn Black) all of Mapleton, Iowa and Brandon Jacobson of South Sioux City, Nebraska; six grandchildren, Liam, Jalee, Avery, Caitlyn and Natalie Jacobson and Garrett Black; her mother, Helen Ladwig and two brothers, Ron (Tricia) Ladwig and Rick (Valerie) Ladwig, all of Ida Grove, Iowa; her mother-in-law, Fern Jacobson of Mapleton; Bruce's sisters and brother and their spouses, Pat (Denny) Petersen of Danbury, Iowa, Pam Clausen (Bob Kaus) of Holstein, Iowa and Sheldon (Peg) Jacobson of Mapleton, Iowa; and many other extended family members and countless wonderful friends.

She was preceded in death by her son, Thomas Jacobson; her father, Melvin Ladwig; her father-in-law, Bob Jacobson; and her brother-in-law, Dale Clausen.
Read More