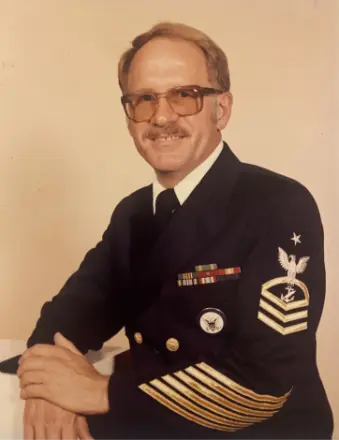 Obituary for Robert A. Owens
Robert A. Owens, age 88, of Sarasota, Florida (formerly of Mapleton, Iowa) passed away on Sunday, October 29, 2023, at the Brookdale Colonial Park of Sarasota, Florida.
A Mass of Christian Burial will be held at 10:00 a.m., Saturday, November 11, 2023, at the St. Mary's Catholic Church of Mapleton, Iowa. Father Richard D. Ball will officiate. Committal services will follow in the St. Mary's Catholic Cemetery of Mapleton, Iowa. Military Rites will be conducted by the Loren Hollister Post No. 496 of the American Legion of Mapleton, Iowa.
A Visitation will be held from 5:00 p.m. to 7:00 p.m., on Friday, November 10, 2023, at the St. Mary's Catholic Church of Mapleton, Iowa.
The Armstrong - Van Houten Funeral Home of Mapleton, Iowa, is in charge of the funeral arrangements. Condolences may be sent online www.armstrongfuneral.com.
Robert Allen Owens and his twin brother, Raymond, were born in Sioux City, Iowa, to Elizabeth (née Staugaard) and Gustav Owens on April 25, 1935. The twins were welcomed home by their older siblings Gorden, Beverly, and Harold; younger sisters Mary and Dona later completed the family. Robert began his education at St. Clair # 5 walking a quarter mile. After his parents bought a farm west of Ute, Iowa, he changed school districts to St. Clair # 8 extending his walk to 1.5 miles. Robert attended St. Paul's Lutheran School during the 7th and 8th grades until he was confirmed. He then attended Ute High School graduating in the class of 1953.
As a young child, Robert enjoyed watching the passenger trains go past his grandparents' farm wondering where the passengers were from or where they were going. At the age of 19 a U.S. Navy poster promising to show him the world was difficult to resist. His enlistment in the Navy was the beginning of a 26-year adventure which brought him as far north as the Arctic Ocean, as far south as Cape Town, South Africa, through both the Panama and Suez Canals and even 500 feet below the ocean's surface.
Robert married Edna Kotrola in December 1957. They had five children: daughters Eve (Kevin) and Heidi (Bryan), sons Norman (Rebecca), Andrew (Judie), and David (LeeAnn). The couple later separated.
Upon retiring from the Navy, Robert continued his education at NTCC in Norfolk, Nebraska, studying building construction, industrial maintenance, as well as certifying to be a commercial and residential electrician. While continuing his education, Robert began working as a sorting clerk at the Norfolk post office learning other positions until becoming the field maintenance technician for smaller post offices in 22 counties in northeast Nebraska.
On October 11, 1984, Robert and Lou Ann (Hupke Rowan) were married. Through this union, Robert gained four stepchildren: Lisa, Mary, Raymond, and Timothy (Mila). The couple lived in Norfolk while Robert worked for the U.S. Postal Service. In 2001, the couple relocated to Sarasota, Florida, in the winter and Mapleton, Iowa, during the summers until they decided to settle in Sarasota year-round.
Robert traveled to 6 of the 7 continents, 23 countries, all 50 states, and resided in 16 states. After retirement Robert and Lou Ann enjoyed summer time visits with family and friends in Iowa and Nebraska. When they were in the Mapleton area, Robert could not resist the Beef-N-Brew's pan fried chicken or homemade pies.
Robert was preceded in death by his parents Elizabeth and Gustav Owens; his wife of 37 years Lou Ann; one step-daughter Lisa and her husband Case; his brother Gorden; a sister Beverly; six brothers-in-law; three sisters-in-law; a sister and brother in infancy; and two nephews.
Cherishing his memory along with his children are his brothers Harold (Pat) and Raymond; his sisters Mary and Dona; many grandchildren, nieces and nephews.
Read More
Previous Events
Visitation
St. Mary's Catholic Church Mapleton
201 N 8th Street
Mapleton, IA 51034
Mass of Christian Burial
St. Mary's Catholic Church Mapleton
201 N 8th Street
Mapleton, IA 51034
Cemetery Details
Location
St. Mary's Catholic Cemetery
Mapleton, IA 51034