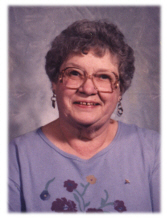 Obituary for Rita Weifenbach
Rita Weifenbach Whiting, Iowa - Rita Weifenbach, 82, of Whiting, Iowa and formerly of Mapleton, Iowa died Friday, February 22, 2013, at Pleasant View Nursing Home in Whiting. There will be no services at this time. Armstrong Funeral Home in Mapleton, Iowa is in charge of the arrangements. Condolences can be sent to the family at www.armstrongfuneral.com. Maureta (Rita) Ardel Weifenbach was born September 25, 1930. at Oto, Iowa, the daughter of Elias and Edna (Beaver) Stratton. She grew up in the Oto area where she attended country school. She helped on the family farm until meeting Kenneth Kunkel who she later married. Soon after the birth of their daughters, Peggy and Shari, and his discharge from the military, Kenneth was killed in a car accident. Rita married Maurice Regennitter and added Suz and Ed to their family. They later divorced The family moved to various locations over the years, settling in Mapleton where Rita married Henry Weifenbach in 1963. Patti was born to this union. Rita was a nurse's aid at various area nursing homes. She worked as a flower delivery person at Floral Design in Mapleton and at times helped with arrangements. She took great pride in her position as an E.M.T. for the Mapleton Ambulance Service where she served for over 20 years. Rita enjoyed bowling, crocheting, painting, playing the piano, watching birds and squirrels, and the beautiful flowers she grew in side and out of her home. Above all, she loved her children and grandchildren. Survivors include her five children, Peggy Kunkel of Onawa, Iowa, Shari Petersen of Anita, Iowa, Suz Chisholm of Hotchkiss, Colorado, Ed Regennitter of York, Nebraska, and Patti Smith and her husband, Larry of Lamoni, Iowa. Rita was blessed with 9 grandchildren, Kenny Hughes and his wife, Vicky of Onawa, Iowa, Jason Petersen of Pinewood, Minnesota, Justin Petersen and his wife, Sarah of McClune, Kansas, Joshua Riddle of Florida, Joseph Chisholm of Colorado, Charity Regennitter of Lincoln, Nebraska, Ethan Smith and Mariah of Creston, Iowa, Emma Coulthard and her husband, Raph (expecting a baby in August), of Oceanside, California and Elias Smith and Cassadie of Lamoni; four blessed great grandchildren, Colton, Jeremiah, Bryce, and Zade Petersen; and one sister-in-law, Donna Stratton of Oto, Iowa. Rita was preceded in death by her parents; five brothers, Marvin, Ivan, Cecil, Kenneth, and an infant brother; and two sisters, Lorena and Muriel.

Service:

There will be no services at this time.
Read More