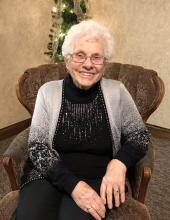 Obituary for Rita Venteicher Dirksen
Rita C. Venteicher Dirksen, age 93, of Danbury, Iowa, passed away on Monday, May 23, 2022, at the Willow Dale Wellness Village of Battle Creek, Iowa.

A Mass of Christian Burial will be held at 10:30 a.m., Friday, May 27, 2022, at the St. Mary's Catholic Church of Danbury, Iowa. Father William A. McCarthy will officiate. A Visitation will be held from 5:00 p.m. to 7:00 p.m., with a Rosary Service at 6:45 p.m. and a Vigil Service at 7:00 p.m. on Thursday, May 26, 2022, at the St. Mary's Catholic Church of Danbury, Iowa. Committal will follow in the Danbury Catholic Cemetery of Danbury, Iowa.

The Christensen -Van Houten Funeral Homes of Ida Grove and Battle Creek, Iowa, are in charge of the funeral arrangements. Condolences may be sent online at www.christensenvanhouten.com

Rita met Ray Venteicher, who had just returned from serving our country in Korea, and they were married on August 30, 1948. Ray was tragically killed in a farm accident on November 8, 1973. In April of 1975 Rita married Joe Dirksen. The couple made their home on the same farm and unfortunately Joe was killed in a farm accident on March 9, 1981.

Rita served on the Danbury Catholic School Board, was a member of the Rosary Society of St. Mary's Catholic Church in Danbury, and was involved in the Council of Catholic Women on the Parish, Deanery, and Diocesan level where she was not only a past member but former President. She was active in establishing the Nurturing Network in the Sioux City Diocese and in the Right to Life. Rita worked to get the "True Love Waits" program into parishes of the Sioux City Diocese and was a past member of the Diocesan Women's Commission and the Peace and Justice Commission. Other community activities Rita was involved with included serving as the Needlework Chairperson at the Ida County Fair.

As the mother of 11 children, Rita loved her family and was very proud of them. She crocheted afghans for each of her beloved grandchildren's graduations. Rita was an avid card player. She will be remembered by those who knew and loved her for her great sense of faith, service, and being an excellent cook.

Rita is survived by her children Betty Mathew, Lou Venteicher, Connie (Mike) Collins, Joan (Bob) Bengford, Larry Venteicher, Judy (Dan) Busch, Leon (Sandy) Venteicher, Jim (Becky) Venteicher, Ken (Debbie) Venteicher and Becky (David) Whited; 49 grandchildren; 93 great-grandchildren; and 23 great-great-grandchildren.

She was preceded in death by her husbands Ray Venteicher and Joseph Dirksen, son Dean, stillborn baby Andrew, and grandsons Adam Venteicher (stillborn), Evan Bengford and Cody Bengford; and son-in-law Ron Mathew.
Read More