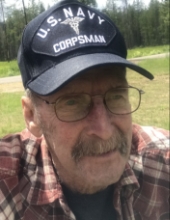 Obituary for Richard "Dick" Pedersen
Richard "Dick" Pedersen, age 77, of Anthon, Iowa, passed away peacefully in his sleep after losing his battle with cancer on Thursday, February 16, 2023, in Columbia Falls, Montana.
A Graveside Service will be held at 11:00, a.m., on Friday, May 12, 2023, at the Oak Hill Cemetery of Anthon, Iowa. Rev. John Riebhoff will officiate. Military Rites will be conducted by the McNiff Post No. 389 of the American Legion of Anthon, Iowa.
The Armstrong - Van Houten Funeral Home of Anthon, Iowa, is in charge of the funeral arrangements. Condolences may be sent online www.armstrongfuneral.com.
On February 16, 2023, at age 77, Dick Pedersen, of Anthon, Iowa, passed away peacefully in his sleep after losing his battle with cancer.
Even though he spent a few short years in the Navy in Montana and in California, his heart belonged to Anthon, Iowa - which is where he lived most of his life. Dick was a skilled and talented mechanic and spent the majority of his professional life (and a lot of his free time) repairing cars, trucks, and farm equipment.
After serving in the Navy Medical Corps in Vietnam, he returned stateside where he met and married Sandra. The couple moved to Anthon where they welcomed their daughter, AnnaMarie aka Annie. Although the couple went their separate ways, the family remained close and spent holidays together after Dick moved to Montana in 2016.
Hot rods, racing, and country drives were his main passions in life (and maybe Bud Light and Pall Malls, too). If he wasn't racing cars on the track, he was on the pit crew keeping cars in racing form. He and his cousins Sonny, Buddy, and Butch Gordon were often working on restoring or building one classic car or another. Many people will remember his yellow '23 Ford T-Bucket in the Kids' Day Parade or just buzzing around town. When he wasn't tooling around in his truck or hot rod, Dick could be found mowing his lawn or sharing a beer with friends.
Dick was a loyal member of Anthon's American Legion McNiff Post #389 for 35 years and served in different roles. He loved participating in the Memorial Day preparations and cemetery services. Having survived lung cancer in 2005 and losing close friends and loved ones to cancer, Dick played in the annual Wild Angels Golf Tournament, founded by Billie Jean Umbach, to raise money for cancer research and treatment. One year, he even got a hole-in-one. If you'd like to sponsor a hole in Dick's name in future tournaments, please contact Wild Angels. All proceeds go to The American Cancer Society.
Speaking of Wild Angels, there was a full and wild flock greeting him as he drove a hot rod into heaven. Paul, Goldie, LeRoy, Clint, Beverly, Mindy, Sonny, Michael, Diane, Carla, Pork, Ev, Tom, Janice...and the list goes on to include friends and family far and near. As it was with his father, it was also true of Dick: He Never Met a Stranger. He will be missed.
Read More
Previous Events
Graveside
Oak Hill Cemetery
Anthon, IA 51004