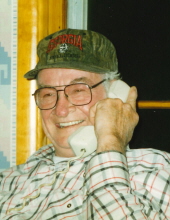 Obituary for Richard D. "Dick" Blake
Richard D. "Dick" Blake, age 80, of Mapleton, Iowa, passed away on Wednesday, December 14, 2016 at UnityPoint Health - St. Luke's of Sioux City, Iowa.
A Funeral Service will be held at 3:00 p.m., Sunday, December 18, 2016 at St. John's United Methodist Church of Mapleton, Iowa. The Pastor Jena Manchester will officiate; with interment following in the Mt. Hope Cemetery of Mapleton, Iowa. Visitation will be held from 1:00 p.m. to 3:00 p.m., on Sunday, December 18, 2016 at the St. John's United Methodist Church of Mapleton, Iowa. The Armstrong - Van Houten Funeral Home of Mapleton, Iowa is in charge of the funeral arrangements. Condolences may be sent online to www.armstrongfuneral.com

Dick Blake was born March 18, 1936 in Sioux City, Iowa, the son of Drew Arney and Ruth Blake.   He grew up and went to school in Pisgah, Iowa. Throughout his childhood, Dick found many creative ways to avoid school.  He could often be heard discussing the long uphill climb to school and the abrupt uphill return home.

From his first marriage, Dick was blessed with four children, Kim, Ed, Paul, and John. On March 13, 1970, Dick was united in marriage to Barb Mesenbrink.  
Dick and Barb had three sons, Bobby, Chris, and Jeremy.  Shortly after they were married, the couple moved to Oregon.  In 1974, they returned to Iowa and purchased the Beef 'N' Brew in Mapleton.  They have owned and operated the restaurant for the entire 42 years since then.  

Dick thoroughly loved his children, grandchildren, and great grandchildren.  Having them around always brought a smile to his face, and he freely shared his hugs and love with them.  All of his grandchildren knew their grandpa for his light-hearted mischief.  Throughout Dick's life, his hobbies included fishing, relaxing in his garage with a Miller Light, going to the dog track or casino, and spending time with his good friend, Ron Little.  He also enjoyed driving truck and hauling grain during harvest for Mordhorst Family Farms until his eyesight no longer allowed him to continue.

Survivors include his wife of 46 years, Barb Blake, whom he lovingly called Bubbles; daughter, Kim (Tim) Corn of Ottawa, Kansas; son, Edwin (Diane) Blake of Mustang, Oklahoma; son, Paul (Kristy) Blake of Commerce City, Colorado; son, John Blake of Riverside, Iowa; son, Robert (Teresa) Blake of Mapleton, Iowa; son Chris (Shari) Blake of Mapleton, Iowa; and son, Jeremy (Christa) Blake of Mapleton, Iowa.  Dick also leaves behind twenty-two grandchildren; Justin, Amity, Steven, Megan, Timothy, Brooke, Josh, Braden, Justin, Jason, Brittany, Kelsi, Tanya, Taylor, Tyler, Chaz, Aayla, Dylan, Ashlyn, Rowan, Daxten, and Thatcher, as well as twenty great grandchildren.  He is also survived by one brother, Ralph Blake.

Dick was preceded in death by his parents; sister, Nina; and four brothers, Rex, Alan, Bob, and Steve; father-in-law, DeWayne Mesenbrink; and two brother-in-laws, Jerry Neubaum and Darrell Mesenbrink.
Read More
Previous Events
Visitation
St. John's United Methodist Church
212 S 7th Street
Mapleton, IA 51034
Service
St. John's United Methodist Church
212 S 7th Street
Mapleton, IA 51034
Cemetery Details
Location
Mt. Hope Cemetery
Mapleton, Iowa