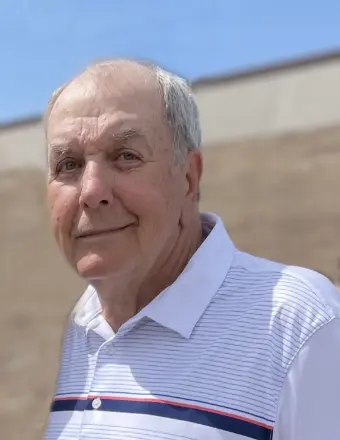 Obituary for Randy G. Olson
Randy G. Olson, age 74, of Ute, Iowa, passed away on Wednesday, June 7, 2023, at the Cox Medical Center of Branson, Missouri.
A Celebration of Life will be held at 11:00 a.m., with a visitation held one hour prior from 10:00 a.m. to 11:00 a.m., Wednesday, June 28, 2023, at St. Peter's United Church of Christ of Mapleton, Iowa. Pastor Merle Mahnken will officiate.
The Armstrong - Van Houten Funeral Home of Ute & Mapleton, Iowa, are in charge of the funeral arrangements. Condolences may be sent online www.armstrongfuneral.com.
In lieu of flowers, those who wish to express sympathy, gifts may be made to the family for a memorial in Randy's honor.
Randolph "Randy" Gale Olson was born August 3, 1948, in Sioux City, Iowa, to Vernon and Opal (Grass) Olson. He was baptized and confirmed in St. Peter's UCC Church in Mapleton, Iowa, of which he was a life-long member.
Randy started in country school outside of Mapleton. He then attended Ute Community School briefly when his parents lived south of Ute, Iowa and then back to Maple Valley graduating with the class of 1966. While in school he played football, basketball, and baseball and began his love for horses.
After graduation he attended Wayne State College where he played basketball until he switched and played semi-pro baseball for the White Sox. Randy loved all sports, but was probably best known for his baseball career. After a knee injury forced him to quit, he continued to play slow pitch softball for many years. Many nights and weekends were spent playing on the ball diamond even after becoming a husband and father.
On January 17, 1976, Randy married Betty Lou Hinrichsen in the living room of the home where they still reside. They were blessed with two daughters: Amanda John and BriAnna Leigh. The family made their home in Ute.
Randy began his work career doing construction for Godbersen-Smith of Ida Grove, Iowa and another construction company of Council Bluffs, Iowa, that rebuilt the Lake Manawa area in the 1970's. After that he was foreman at Farmland in Denison, Iowa, for 16 years. His last 20 years of employment were spent as the City of Ute Maintenance and Water Supervisor until his retirement in 2011.
He served on the Ute Town & Country Board as President, Rural Water Association of Western Iowa Board, and St. Peter's UCC Board as President. Most recently, Randy was proudly serving as Board Secretary/Treasurer for the Wyndham Mt. Vista Resort in Branson, Missouri. Branson was his second home.
In addition to sports, Randy's hobbies included raising horses (Paint, Percheron, Quarter horse, Belgian) and mules (his favorite being "Joe"), and his jack "Jack." Many mules were sent to Montana and Wyoming to be used as riding and pack mules for elk hunting. He spent time on the road team-roping in Western Iowa and Nebraska.
"The Auctioneer Song" was one of his favorites. Randy also enjoyed playing cards and fishing. Many good times were spent with his friends on his island in Canada. His other claim to fame was playing Captain Von Trapp in the 1966 Maple Valley Music Department's production of "The Sound of Music". People still talk about this today and Randy's performance of "Edelweiss".
Randy passed away Wednesday, June 7, 2023, after a cardiac event in Branson...his home away from home.
Those left to cherish his memory are his wife of 47 years Betty Lou of Ute, IA; daughters Amanda (Derick) Bruhn of Schleswig, IA and BriAnna (Nick) Nystrom of Waukee, IA; grandchildren Kaitlyn Gale, Kamden Eileen-Marie, Karsen Dean, and Kyler Ray Bruhn all of Schleswig, IA; sister Sharon (Len) Ainsworth of Ankeny, IA; niece Tracye (Chris) Harper of Mesa, AZ; nephew Trent (Bickley) Ainsworth of West Des Moines, IA; great-niece Ellsey Ainsworth and great-nephews Calvin and Morgan Harper and Leo Ainsworth, as well as a host of other family and friends.
He was preceded in death by his parents Vernon and Opal (Grass) Olson; and other family members and friends.
Read More
Previous Events
Visitation
St. Peter's United Church of Christ
510 Ring Street
Mapleton, IA 51034
Celebration Of Life
St. Peter's United Church of Christ
510 Ring Street
Mapleton, IA 51034