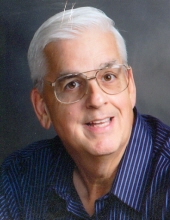 Obituary for Ralph C. Cassady
God took Ralph Charles Cassady home on June 7, 2018, at the age of 76. Ralph's wishes included his cremation and interment to be in the Whiting, Iowa Cemetery which sits on land donated by his grandfather. A Memorial Service will be held at Rockwell Baptist Church on Thursday, June 14 @ 10:30 a.m.

Ralph Charles Cassady was born on June 3, 1942, the middle child of Raymond and Marjorie (Eshbaugh) Cassady. He had an older brother Mike and a younger sister Barb. Ralph graduated from Mapleton High School in 1960. He then attended State College of Iowa in 1964 and UNI in 1973. All of these experiences provided Ralph with some very special memories and special friends.

On August 16, 1969, Ralph married Barbara Louise Sievert at First Baptist Church in Minneapolis, MN. The couple was blessed with two children: Timothy and Josh. Ralph and Barb would later separate but still remain friends.

Ralph taught school for 38 years; 32 of them in the Mason City School District. He also judged speech contests for the IHSSA for 24 years. Ralph helped elementary students in reading and he also did private tutoring for many years. For over 15 years he had two programs on KCMR Radio and volunteered as a probation officer in the adult department of corrections for 11 years. All of these activities Ralph fondly remembered.

Ralph's heart has always had a special place for dogs. He loved the Dalmatian breed and rescued four of them over the years. They were all named Bandit. Each one was a constant companion showing unconditional love and loyalty.

Ralph was greatly thankful to have his Lord and Savior Jesus Christ in his life. He invited Jesus into his heart on January 23, 1966. Ralph continued to learn and grow at the First Baptist Church of Rockwell. He took pleasure in attending the Thursday night group. They were supportive and encouraging. Ralph also enjoyed writing Christian short stories and plays.

Ralph is survived by Barb Cassady; sons Timothy Cassady and Josh Cassady; two grandchildren Justice Timothy and Sheyanna Nicole; brother Mike of Seattle, WA; sister Barb of Minneapolis, MN; many cousins, extended family and friends.

He was preceded in death by his parents; both sets of grandparents; two uncles and three aunts.
Read More