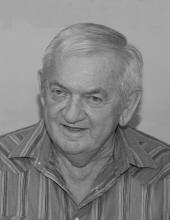 Obituary for Paul F. Fundermann
Paul F. Fundermann, age 83, of Anthon, Iowa, passed away Monday, November 27, 2017 at the Kingsley Specialty Care of Kingsley, Iowa.

Private services will be held at a later date under the direction of the Armstrong-Van Houten Funeral Home of Anthon, Iowa.

Paul F. Fundermann, the son of Emma (Benker) and Theodore J. Fundermann, was born July 9, 1934, in rural Anthon, Iowa. Paul attended country school in Anthon. He enlisted into the United States Army in February of 1957 and served at Fort Chaffee in Arkansas, Fort Bliss in Texas and Red Canyon in New Mexico. Paul was a cook and also did construction work while enlisted. He was honorably discharged in January 1963.

When Paul left the service, he returned home to Anthon, IA, to help on the family farm. Farming would become his lifelong career. Paul's love for collecting and antiques eventually led to him opening Emma G's Antiques in Anthon in the late 1980s.

Paul was blessed with five children. He will be remembered for his pumpkin pies and venison jerky. Paul was a member of the McNiff Post #389 of Anthon, IA, for 45 years.

Paul is survived by his children Stacie (Vince) Choquette of Sergeant Bluff, IA, Sheila (Craig) Kirkholm of Rapid City, SD, Bill (Tiffany) Fundermann of Creston, IA, Heidi (Brent) Sivertsen of Arvada, CO, Henry (Jessica) Fundermann of Sergeant Bluff, IA; grandchildren Paul (Andrea) Choquette, Justin, Chance and Ben Kirkholm, Diedrich and Danielle Fundermann, Lauren (Joe) Boyd, Sydney Sivertsen, Hayden and Hadley Fundermann; great grandchildren Calum Boyd and Elijah Choquette; sisters Pauline Osborne of Buffalo, MO, Judy Thompson of Williams, MN, Eileen Bumsted of Sioux City, IA; brothers Edward "Jake" Fundermann of Anthon, IA, Frank Fundermann of Red Oak, IA, Wayne Fundermann of Anthon, IA; numerous nieces, nephews, extended family and friends.

He was preceded in death by his parents Emma and Theodore Fundermann; brothers John and Theodore "T.P." Fundermann.
Read More