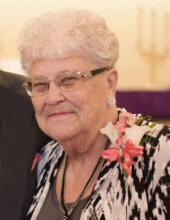 Obituary for Norma J. Marsh
Norma J. Marsh, age 82, of Wisner, Nebraska formerly of Mapleton, IA passed away on Monday, March 6, 2017 at her residence of Wisner, Nebraska.
A Funeral Service will be held at 5:00 p.m., Thursday, March 9, 2017, at the Armstrong-Van Houten Funeral Home of Mapleton, IA. Pastor Linda Boggs will officiate. Burial will take place at a later date in the Mt. Hope Cemetery of Mapleton, IA. Visitation will be held one hour prior to the service from 4:00 p.m. to 5:00 p.m., on Thursday, March 9, 2017, at the Armstrong – Van Houten Funeral Home of Mapleton, Iowa. The Armstrong - Van Houten Funeral Home of Mapleton, Iowa is in charge of the funeral arrangements. Condolences may be sent online to www.armstrongfuneral.com


Norma Jeanne (Wacheldorf) Marsh was born July 27, 1934 in Mapleton, IA to Emil and Leona (Jacobs) Wacheldorf. Even though her 82 year old spirit was strong, she lost her battle to lung cancer the morning of March 6, 2017. She was surrounded by the love of her family as she left this world, in the home she shared with her daughter Linda and son-in-law Marvin Mauch in Wisner, NE.
Services will be held at the Armstrong-Van Houten Funeral Home located in Mapleton, IA at (TIME??) on Thursday, March 9, 2017. Visitation with the family will begin one hour prior to the service at the funeral home. Dinner will be served immediately following the services at the Mapleton Legion Hall. Burial will be held at Mt. Hope Cemetery in Mapleton, IA at a later date.
Norma was a proud 1952 graduate of Maple Valley High School located in Mapleton, IA. That same year, Norma married the love of her life Robert "Pappy" Marsh of Mapleton, IA on June 23, 1952. Norma and Pappy lived in Mapleton for several years where Norma was a loving and busy homemaker. She took great pride in caring for her family and raising her girls, Linda and Robyn. Throughout the years the family moved to Sioux City, Council Bluffs and then eventually, in 1975 Norma and Pappy settled in Beemer, NE. They lived in Beemer for many years. During her time in Beemer, Norma worked at Petz's Cafe. She enjoyed sharing her quick wit with the regulars around the round table as well as showing off her extensive Hawkeye collection which she had displayed in the cafe. Her loyalty to her beloved Hawkeyes never wavered even though she was living in the middle of Husker country for many years.
In 2005 Norma and Pappy moved to the experimental farm acreage outside of Castana, IA and later moved to Scranton, IA where they lived until Pappy's passing in 2008. Norma then moved back to Mapleton and lived in the Sunrise Apartments before finally moving in with her daughter, Linda in Wisner, NE.
Many cherished memories were made through the years and it was not uncommon for Norma to share those memories with friends and family over a hot cup of coffee in her Hawkeye mug. There would be talk of the years spent running the old pool hall in Ute, IA making rocky mountain oysters, or how she was an avid bowler in her younger years and about the occasional trip she would take with Pappy trucking. She would also reminisce about the many laughs shared with her fellow "river rats" at "RiverTown", a little campground her and Pappy created next to the Elkhorn River outside of Beemer, NE. Norma loved sitting around the campfire laughing and reminiscing with family and friends. In later years, that tradition was resurrected with the creation of "Camp Redneck". During one, extended weekend a year, family and friends from far and wide would gather on the Carstens farm creating many cherished, and often, muddy memories. Norma, or "Normie" as many called her, was loved by many. Her passion for her family was unprecedented.
Other hobbies that Norma enjoyed were gardening, reading, getting groceries and sharing her backseat driving expertise. Norma also had flare for road tripping with family at a moment's notice whether that was a weekend trip to a neighboring state, checking out a new second hand store, losing a few quarters in the slots at a casino or hitting up one of the many sporting/school events that one of the grandkids or great grandkids participated in. She touched the lives of everyone she met and the love she had for so many will never be forgotten.
Family members left to cherish Norma's memory include two daughters Robyn (Randy) Carstens of Castana, IA and Linda (Marvin) Mauch of Wisner, NE; five grandchildren Bobbi (Todd) Moore of Danbury, IA, Jonathan (Shelly) Mauch of Wisner, NE, Amy Halterman and her boyfriend Hayen Scott of Norfolk, NE, Alison (Curt) Justice and Aaron (Heather) Carstens both of Sioux City, IA; fifteen great grandchildren Haley (Dan) Schweers of Saint Edward, NE, Derik Via, Samantha Via and Tyson Brosh all of Council Bluffs, IA, Kysa Moore of Danbury, IA, Kalib, Jeremiah and Zackary Mauch, all of Wisner, NE, Tracie Brosh of Scranton, IA, Nikki, Hanna and Rylee Halterman all of Norfolk, NE, Madilynne Shelby, Kenzlee Carstens and "Baby Justice" all of Sioux City, IA; 3 great great grandchildren Lakota and Maximus Brosh, and Parker Schweers; one brother Richard "Dick" (Sherri) Wacheldorf of Columbus, NE and one sister Phyllis Reinbold of Sioux City, IA; as well as several nieces and nephews, cousins and many friends.
Norma was preceded in death by her parents; her husband, Pappy of 56 years; 2 sisters, Judy Riley and Delores "Tootie" Thiel; 3 brothers Elmer Wacheldorf, Lenard Wacheldorf and Robert "Bob" Wacheldorf; and her beloved dog, Annie. A special, heartfelt thank you would also like to be extended to the wonderful Hospice staff and nurses who helped care for Norma during the last several months of her life.
Read More
Previous Events
Visitation
Armstrong - Van Houten Funeral Home - Mapleton
210 South 5th Street
Mapleton, IA 51034
One Hour Prior To Service
Service
Armstrong - Van Houten Funeral Home - Mapleton
210 South 5th Street
Mapleton, IA 51034