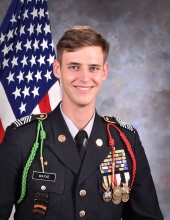 Obituary for Nickolas Lewis Watke
Nickolas Lewis Watke, age 17, of Ocala, Florida, passed away on Sunday, November 13, 2016 in Florida.
A Memorial Service will be held at 10:00 a.m., Saturday, December 17, 2016 at St. Paul Lutheran Church of Ute, Iowa. The Reverend Marcus Manley will officiate; with interment following in the St. Clair Township Cemetery of Ute, Iowa. Visitation will be held from 4:00 p.m. to 7:00 p.m., with a prayer service held at 7:00 p.m., on Friday, December 16, 2016 at the Armstrong – Van Houten Funeral Home of Ute, Iowa. Pastor Rick Summerhays will officiate the prayer service. The Armstrong - Van Houten Funeral Home of Ute, Iowa is in charge of the funeral arrangements. Condolences may be sent online to www.armstrongfuneral.com

Nickolas Lewis Watke was born on Sunday, April 18, 1999 and passed away on Sunday November 13, 2016, at the age of 17.
Nick was born in Ridgecrest, CA and from there he lived in Fargo, ND, Des Moines, IA, Ogden, IA, Santa Fe, NM, Ft. Meyers, FL and Summerfield, FL. He most recently lived in Ocala, FL and was a senior at Lake Weir High School.
Nick was an outgoing and energetic young man. He loved anything with wheels: Bikes, tractors, go-carts, 4 wheelers, cars, trucks and motorcycles. He enjoyed spending time visiting family in Ute, Iowa and made numerous friends in the area. Nick attended school in Ogden, Iowa into the seventh grade. He joined AWANA and Boy Scouts, played trumpet and keyboard, enjoyed singing, being the comic, and dancing. He played informal sports, loved fishing, hunting, and swimming. He and his family attended Water Edge Church in Ogden, Iowa where he developed his gift of showing love and helping others. He joined the Junior Reserve Officer Training Corps (JROTC) when he was a freshman at Lake Weir High School and as a senior, he reached the top rank of Cadet Command Sgt. Major. He had begun the enlistment process and planned to ship out with the Army after graduation next spring. He received awards in state competitions for drill, color guard, and exhibition which was his passion.
Nick volunteered at the VFW in Candler, FL, escorted Gold Star Moms at their banquet, and volunteered at local church events. He was a member of Sacred Fire Ministries in Belleview, FL. His first formal employment was working for Taco Bell/ KFC on Maricamp Road in Silver Spring Shores. FL.
Nick is survived by his parents Terry and Maria Watke of Ocala, FL as well as grandmothers Donna Watke of Ute, IA and Sonni Kaip of Huron, Ohio; great grandparents Mr & Mrs. Arthur Hanson of Richfield, MN; aunts and uncles Tanis Watke of Ute, IA, Tony Watke of Torrance, CA, Leah Schwery of Ute, Iowa, Rory Kaip of Huron, Ohio, Richard Kaip of Fargo, ND, Michael Kaip of St. Charles, MN, Cynthia Joseph of Vancouver, Canada; half-brothers, Justin Watke of Omaha, NE and Kevin Watke of Omaha, NE along with many cousins, beloved friends, and co-workers.
Nick was preceded in death by his grandfathers James John August Watke and Richard Nick Kaip, SR; grandmother Emeline Louise Chieze; and cousin Lily Sky Anderson.
In lieu of flowers, please consider donating to the Nickolas Watke Memorial Benefit Fund at any Wells-Fargo Branch or online.
Read More
Previous Events
Visitation
Armstrong - Van Houten Funeral Home - Ute
501 South Day Avenue
Ute, IA 51060
A Prayer Service will be held at 7:00 p.m.
Service
St. Paul's Lutheran Church, Ute
303 E 4th St
Ute, IA 51060