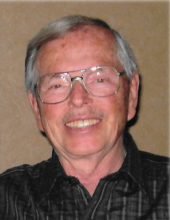 Obituary for Myron L. Armour
Myron LeRoy Armour, age 87, of Smithland, Iowa passed away on Friday, February 24, 2017 at his residence of Smithland, Iowa, surrounded by his family, following a determined fight.
A Memorial Service will be held at 10:30 a.m., Friday, March 3, 2017, at Smithland United Methodist Church of Smithland, Iowa. Pastor Karen Handke will officiate. Military Rites will be conducted at the church by the Leslie F. Seaton Post No. 666 of the American Legion of Smithland, Iowa. A Visitation will be held from 5:00 p.m. to 8:00 p.m., with a prayer service and musical celebration held at 7:00 p.m., Thursday, March 2, 2017 at the Westwood Community High School Auditorium of Sloan, Iowa. The Armstrong - Van Houten Funeral Home of Mapleton, Iowa is in charge of the funeral arrangements. Condolences may be sent online to www.armstrongfuneral.com



Myron LeRoy Armour, age 87, of Smithland, IA, passed away on February 24, 2017, at his residence surrounded by family, following a determined fight.
Myron was born January 5, 1930 to Irene and Lawrence Armour of Dakota City, NE. (His father died when Myron was six, leaving him and his brother Dean to face the harshness of life on a small farm in the middle of the Great Depression.) He graduated Allen Consolidated High School in 1948 and went on to receive his bachelor degree in 1952 from Wayne State College. He later received his MBA from the University of Northern Colorado in Greeley, Co.
Myron married Ardith Roberts in 1951. She was his high school sweetheart, and lived on a farm up over the hill. They celebrated 65 years of marriage, usually found holding hands.
Myron enlisted in the US Army from 1952 -1954 and saw significant combat duty serving his country in the Korean War.
He taught music for 1 year at Hartington, NE. They moved to Smithland, Iowa in 1955, where Myron was the Vocal Music Director for Smithland High School. When Westwood High School consolidated, Myron was the Vocal Music Director for 28 years, totaling 33 years teaching music.
He was innovative, being one of the first to bring "swing choir" into being with "The Rebelaires". The music department put on many big musicals, including Bye Bye Birdie, Oklahoma, and The Mikado. He also conducted the Hallelujah Chorus for 50 years, being invited back by Music Director Tom Gerking as guest conductor for 25 years.
He spent most summers working as a carpenter, helping to build many houses in the area.
After retiring in 1989, Myron worked part time for his sons contracting business, sang barbershop music, and he and Ardith began the tradition of driving the motor home south in the winter to visit old friends. They also bought and sold antiques for many years.
Myron modeled the tradition of service to the town of Smithland, acting as Cub Scout leader, town council member and choir director for their church. He was an active member of the Legion Post and Masonic Lodge.
He is survived by his wife, Ardith (Roberts) Armour, five children: daughter Laurie Olander (Don) of Camas, OR, son Michael (Beverly) of Omaha, NE, son Gregory (Chris) of Omaha, NE, daughter Tamara Scheelhaase (Kirk) of Moville, IA, and son Scot, of Lincoln, NE, and 11 grandchildren and 10 great-grandchildren. He also leaves a brother, Dean of Smithland, IA
The family is requesting in lieu of flowers, any memorials be made payable to Westwood Vocal Music Department in Sloan, IA.
Read More
Previous Events
Visitation
Westwood Community School
1000 Rebel Way
Sloan, IA 51005
Prayer Service and Music Celebration at 7:00 p.m.
Memorial Service
United Methodist Church ~ Smithland
Washington Street
Smithland, IA 51056