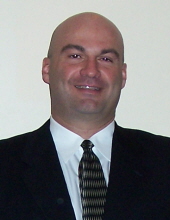 Obituary for Michael John Leahy
Michael John Leahy, age 48, of Chicago, Illinois, passed away, July 27, 2016, at the Weiss Memorial Hospital in Chicago, Illinois.
A Funeral Mass will be held at 11:00 a.m., Thursday, August 4, 2016 at the St. Mary's Catholic Church of Sac City, Iowa. Father John McGuirk will officiate. Committal Services will be held at 2:30 p.m., Thursday, August 4, 2016 in the St. Patrick's Catholic Cemetery of Danbury, Iowa. A Visitation will be held Wednesday, August 3, 2016 from 6:00 p.m. to 8:00 p.m. with a rosary service held at 7:45 p.m. follow by a Vigil Service at 8:00 p.m. at the St. Mary's Catholic Church of Sac City, Iowa. The Visitation will resume for two hours prior to the service from 9:00 a.m. to 11:00 a.m. on Thursday, August 4, 2016 at the St. Mary's Catholic Church of Sac City, Iowa. The Armstrong - Van Houten Funeral Home of Mapleton, Iowa is in charge of the funeral arrangements. Condolences may be sent online to www.armstrongfuneral.com

Michael John Leahy was born on April 12, 1968, in Cedar Rapids, Iowa, to Edward J. and Joan (Kramer) Leahy.
We learned early on Mike was a sales oriented person. As a small child Mike saw an advertisement where he could earn a fishing tackle box by selling 12 packages of assorted green seeds. Although his parents thought there were going to be at least 12 years of gardening in their future, Mike relentlessly plied the neighborhood with his red wagon, charmed the neighbors and came back an hour later with half of them sold. The next evening he went out again and returned home saying "Dad, I got them all sold, now help me fill out the coupon to get my tackle box!"
Mike grew up in western Iowa. In his younger years he enjoyed going to his grandparent's farm near Danbury, Iowa and taking part in all the farming activities. He attended Spalding Catholic High School in Granville, Iowa and graduated from Tipton High School in 1987. He followed his sales instincts after high school working in sales jobs to earn money for college. Michael attended Kirkwood Community College and became a proud graduate from the University of Northern Iowa in May 1991, with a Bachelor of Arts in Marketing and Sales. His professional talent later blossomed as he worked with many industry leading kitchen and bathroom hardware companies as a product manager and national sales accounts manager. In working these positions his travels took him to Japan, China, and most recently to Vietnam. Michael will be remembered for his warm ready smile and kind heart.
He is survived by his parents and brother Steve (Sheryl) Leahy of Madison, Alabama and their sons Ryan, Kevin and daughters McKenna and Tara; numerous aunts, uncles, cousins, extended family and friends.
Michael was preceded in death by his paternal grandparents, Martin and Mary Ellen Leahy; maternal grandparents, Arnold and Eileen Kramer; aunts, Ann Kramer, Mary Leahy and Sally Leahy; and uncle, Frank Leahy.
Read More
Previous Events
Visitation
St. Mary's Catholic Church
Sac City, IA
Rosary Service at 7:45 p.m. Vigil Service at 8:00 p.m.
Memorial Service
St. Mary's Catholic Church
Sac City, IA
Cemetery Details
Location
Danbury Catholic Cemetery
Danbury, IA 51019