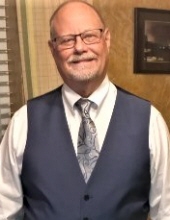 Obituary for Michael Cook
Michael Cook, age 66, passed away on May 22, 2022, in Fort Worth, Texas.

A Graveside Service will be held at 10:30 a.m., Saturday, June 25, 2022, at the Mount Hope Cemetery of Mapleton, Iowa. Pastor Mike Fillmore will officiate.

The Armstrong - Van Houten Funeral Home of Mapleton, Iowa, is in charge of the funeral arrangements. Condolences may be sent online www.armstrongfuneral.com.

Michael Cook, age 66, passed away on May 22, 2022, in Fort Worth, Texas.

Michael was born on May 23, 1955 in Fort Worth, TX, to Hazel Cook. He graduated from JJ Pearce High School in Richardson, TX in 1973 and went on to earn an Associate's degree from Eastland College.

His work history was varied, beginning with three years at Camp Courageous of Iowa (1978-1981). After moving to Portland, OR, he worked at Oregon Episcopal School (1981-1994). In Fort Worth, he worked for Jetta Operating Company from 1995-2019 until he retired.

Michael married Christine Bennett in 1989. The couple had no children. Michael was best known for his kind and giving spirit and his ready laugh. He loved camping, canoeing, reading.

He is survived by Christine Bennett Cook, wife of 32 years, Arlington, TX; Hazel Cook, mother, Fort Worth, TX; Karen Allcon, sister and her husband, Alvin Allcon, Stephenville, TX. Also, brothers-in-law and wives, Brian and Theresa Bennett, LaPorte, CO, Ken and Marcy Bennett, Shellsburg, IA and Tim and Ellen Bennett, Omaha, NE. Additionally, he was also survived by his aunt, Mary Fuller, as well as six nieces and nephews and three first cousins.

Michael was preceded in death by his father, Robert Cook; his grandparents, Lucille and AB Cecil and Olene Franklin.

A funeral service for Michael Cook was held on Friday, June 3, 2022, at 10:00 a.m. at the Wade Funeral Home located in Arlington, Texas, with a visitation held on Thursday, June 2, 2022, from 6:00-8:00 p.m. Burial will be at the Mount Hope Cemetery in Mapleton, Iowa.

Memorial donations can be made in Michael's name to Camp Courageous of Iowa or Sagamore Baptist Church.
Read More
Previous Events
Graveside
Mt. Hope Cemetery
Mapleton, Iowa