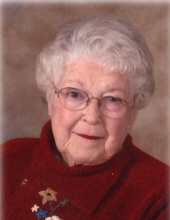 Obituary for Mary Grace (McGarr) Wolterman
Mary Grace (McGarr) Wolterman , age 96, of Mapleton, IA and formerly of Danbury, IA, died May 1, 2016 at Maple Heights Nursing Home in Mapleton.
Funeral Mass was held at 10:00 am Thursday,May 5, 1016 at St. Mary's Catholic Church in Danbury with Reverend Daniel Greving officiating. Burial will be at Danbury Catholic Cemetery.
Armstrong Funeral Home of Danbury and Mapleton has been entrusted with the arrangements and the family is receiving condolences on line at www.armstrongfuneral.com.

Mary Grace Wolterman was born January 10th, 1920 in Oto, Iowa, the daughter of Charles M. and Ethel P. (Barr) McGarr (deceased). She married Marcellus G. Wolterman on February 25th, 1941. They had a dairy farm in the Danbury area until 1982 when they retired and moved to Mapleton. Marcellus died December 18th, 2004.
She was a member of St. Mary's Catholic Church in Mapleton, IA. She was a past president of St. Mary's Danbury Rosary Society and loved gardening, ceramics and woodworking, but her greatest accomplishment was her 8 children.
She is survived by six children: Paul Wolterman and his wife Judy, Linda Aiken and her husband Fred, Fanchon Dirksen and her husband Fred, Morna Levatino and her husband Tony, Mark Wolterman and his wife Sherrie, Marcine Burns and her husband Keith ; 12 grandchildren: Patti Manthorne, Julie Burroughs, Adam and David Dirksen, Brian Aiken, Debra Guzman, Marcy and Joseph Levatino, Kent Fredricksen, Mitchel Wolterman, Tara McLeran, Mariah Burns 10 Great children: Ashley Hobbs, Alex Gosch, Carter Manthorne, Gabbrielle and Dannielle Mellott, Emma Butterworth, Lily, Avery and Brynn Burroughs, Leo Dirksen. Great Grand Child: Nora Hobbs.
She was proceeded in death by a son Pete, a daughter Marsha; 3 grand children Mike Wolterman, Marlys Wolterman and Cheryl Mellott; and one great grandson Tyler Gosch; her 6 siblings: Gerelda Bowman, Paul and Francis McGarr, Maxine Kirkpatrick, Louise Hughes and Fanchon Sherer.
All memorials should be sent to Danbury Catholic School in Danbury, Iowa.
Arrangements were made under the direction of Armstrong Funeral Home of Mapleton.
Read More
Previous Events
Service
St. Mary's Catholic Church
604 Peach Street
Danbury, IA 51019