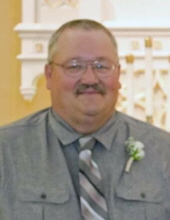 Obituary for Mark T. Lorenzen
Mark T. Lorenzen, age 59, of Charter Oak, Iowa, passed away Monday, July 11, 2016, at the Crawford County Memorial Hospital of Denison, Iowa.
Memorial Services will be held at 10:30 a.m., Monday, July 18, 2016 at the St. Paul Lutheran Church of Ute, Iowa. The Rev. Marcus Manley will officiate. Military Rites will be conducted by Aaby Post No. 442 of the American Legion & VFW Post #5605, both of Ute. Visitation will be held from 5:00 p.m. to 7:00 p.m., Sunday, July 17, 2016 at the Armstrong – Van Houten Funeral Home, of Ute, Iowa. A time of remembrance will start at 7:00 p.m. on Sunday, July 17, 2016 at the Armstrong – Van Houten Funeral Home, of Ute, Iowa. The Armstrong - Van Houten Funeral Home of Ute, Iowa is in charge of the funeral arrangements. Condolences may be sent online to www.armstrongfuneral.com

Mark T. Lorenzen (Papa/Gus) was born on June 25, 1957 in Ida Grove, Iowa to Harold (Mike) and Bev (Wailes) Lorenzen. The family lived on a farm in Arthur, Iowa attending elementary school until the 3rd grade, when they relocated to a farm south of Charter Oak, Iowa. Mark went to Charter Oak-Ute Community School graduating with the class of 1975. On January 30, 1976, he enlisted in the US Air Force. While traveling overseas serving his country, he learned how to golf. On January 29, 1980, he was honorably discharged. Upon returning home, Mark and his father raised hogs on the farm. He enjoyed being on the Board of Directors for the Crawford County Pork Producers from 1982-1988, along with announcing for the CO-U Bobcats, becoming known as the "Voice of the Bobcats", which he loved doing for 30 years. (1985-2015)
In 1984, while golfing at the Willow Vale Golf Course, he met Barb and after four years of dating and numerous rounds of golf, the couple tied the knot on the golf course, tee box 1 on June 11, 1988. Mark welcomed Barb's four children making their home in Charter Oak, IA. He was confirmed in his faith and became a member of the St. Paul's Lutheran Church of Ute, Iowa.
Mark continued golfing, farming, fencing with his best friend Mike Mordhorst, and assisting at the Mapleton Meat Locker each deer season. He was a true handyman, always helping others with anything they needed. He started working for Danbury Farm Supply (CPS) in January 1997 as an Applicator and Safety Director becoming the Liquid Plant Manager. He was always the "go to" guy with all the answers to every ones questions.
Mark loved fishing, especially ice fishing in Minnesota with his closest friends. He also enjoyed sudoko puzzles, carpentry work, woodworking, preparing food for others and enjoyed eating with them. His love for chocolate was well known, like his "own" special hot water cake recipe which later Barb found on the Hershey's Cocoa box, making Mark laugh because his secret was out. He also loved spending time with his family, especially his grandchildren and great-grandchildren, who he treasured as his own. They were his prized possessions - teaching them all how to say "papa" as their first word. Papa would let the great-grandchildren play in his truck with him for hours, pretending to drive, playing music and singing. He showed his gift of patience by carrying them around moving the wind chime. Always putting others needs before his own.
Left to cherish his memory are his wife Barb Lorenzen of Charter Oak, Iowa; children, Stefani and Chris Tanner and their children Matthew and Hanna of Johnston, Iowa; Wendy and Mark Kay of Johnston, Iowa and children, Khael and Breanna Rosburg, Corbin of Granger, Iowa, Faith Rosburg, Diesel and Mia of Grimes, Iowa; Shelly Goslar and special friend Lee Friedel of Grimes, Iowa; Ryan Goslar of Ute, Iowa. His parents Harold (Mike) and Bev Lorenzen of Charter Oak, Iowa; sister Pat and husband Lyle Bielenberg of Ida Grove, Iowa and their children, Justin and wife Allison, Taylee of West Des Moines, Iowa; Caitlin Bielenberg and finance Joe of Tiffin, Iowa and extended family and friends.
Papa was preceded in death by both paternal and maternal grandparents and other loving family and friends.

You may be gone from our sights but never gone from our hearts. We love you Papa…….
Read More
Previous Events
Visitation
Armstrong - Van Houten Funeral Home - Ute
501 South Day Avenue
Ute, IA 51060
Memorial Service
St. Paul's Lutheran Church, Ute
303 E 4th St
Ute, IA 51060