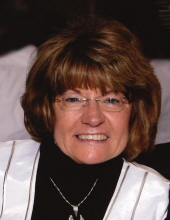 Obituary for Linda J. Dirksen Pickreign
Linda Dirksen Pickreign, age 68, of Danbury, Iowa, passed away on August 16, 2016.
A Mass of Christian Burial will be held at 10:00 a.m., Saturday, August 20, 2016 at the Saint Mary's Catholic Church of Danbury, Iowa. Father Dan Greving will officiate. Committal Services will follow in the Saint Mary's Catholic Cemetery of Danbury, Iowa. A Visitation will be held from 4:00 p.m. to 7:00 p.m. with a vigil service at 5:00 p.m. and a rosary at 7:00 p.m., on Friday, August 19, 2016 at the Saint Mary's Catholic Church of Danbury, Iowa. The Armstrong - Van Houten Funeral Home of Danbury and Mapleton, Iowa is in charge of the funeral arrangements. Condolences may be sent online to www.armstrongfuneral.com


Linda Dirksen Pickreign was born on September 2, 1947 in Sioux City, Iowa, to Edmund and Silvina (Seuntjens) Dirksen.
Linda grew up on the farm about a ¼ of a mile east of Danbury, Iowa. She attended and graduated from Saint Mary's Catholic High School with the class of 1966. While living in Danbury, she volunteered her time to Nuns on the Run, delivering Meals on Wheels to residents of the community and would help with communion at the local nursing home and pray the rosary with the residents.
After high school, Linda attended the CE School of Commerce in Omaha, Nebraska, finishing two years of business school. She was employed by Omaha National as an account representative until 1993, after which she returned home to Danbury, Iowa to help care for her father Edmund. After her father's passing she continued to live in Danbury and care for her mother Silvina.
On September 21, 2013, Linda was united into marriage at Saint Mary's Catholic Church of Danbury, Iowa, to her longtime friend of 40 years Robert L. Pickreign.
Linda enjoyed taking care of her vegetable garden and tending to her flowers, working on crafts and catching a game of Wheel of Fortune. She was an excellent cook and baker which earned her the nickname, "the muffin lady". She will be fondly remembered for her Sunday morning tradition of coffee and goodies, a tradition that started with her parents and which Linda continued to host. Linda was a devoted and lifelong member of Saint Mary's Catholic Church of Danbury, Iowa. She took pride in volunteering and sharing her time with her community. She will be fondly remembered and greatly missed by her family and friends.
Left to cherish her memory are her husband, Robert L. Pickreign of Danbury, Iowa; brothers, Ken (Janelle) Dirksen of Omaha, Nebraska, Norman (Angela) Dirksen of Augusta, Maine, Warren (Kathy) Dirksen of Danbury, Iowa; sister, Maureen (Andrew) Wede of Grand Island, Nebraska; numerous nieces, nephews, extended family and friends.
Linda was preceded in death by her parents, Edmund and Silvina Dirksen; and nephew, Joseph Dirksen.
Read More
Previous Events
Visitation
St. Mary's Catholic Church-Danbury
604 Peach Street
Danbury, IA 51019
Vigil Service 5:oo PM Rosary at 7:00 PM
Memorial Service
St. Mary's Catholic Church-Danbury
604 Peach Street
Danbury, IA 51019