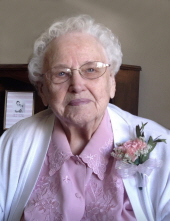 Obituary for Lillian C. Wodtke
Lillian Catherine Wodtke, age 104, of Spirit Lake, Iowa (former longtime resident of Mapleton, Iowa), passed away on Sunday, June 7, 2020, at the Accura Healthcare of Spirit Lake, Iowa.

A Graveside Service will be held on Thursday, June 11, 2020 at 1:00 p.m., at the Mount Hope Cemetery of Mapleton, Iowa, with Pastor Chris LaBoube officiating. Due to COVID-19 regulations, social distancing guidelines will be enforced. The Armstrong - Van Houten Funeral Home of Mapleton, Iowa, is in charge of the funeral arrangements. Condolences may be sent online www.armstrongfuneral.com.

Lillian Catherine (Paulsen) Wodtke was born on May 24, 1916, to Henry and Dora (Hanneman) Paulsen and baptized in the Immanuel Lutheran Church in Soldier Township. She attended the local country schools through the 6th grade and then moved in with her grandparents during the school year while attending and graduating from junior high school in Denison, Iowa.

She was united in marriage to Martin J. Wodtke on March 6, 1938, at the Immanuel Lutheran Church in Soldier Township. The couple moved to a farm in Crawford County, Iowa and farmed together there until 1955 when they downsized and moved to a smaller farm just outside of Mapleton, Iowa. Upon moving to Mapleton, Lillian not only worked side by side with Martin but also started her own egg business. It grew to the point that she supplied all three grocery stores in town, three cafes, the bakery, and the school as well as direct marketing to numerous residents in the community.

Lillian was a longtime member of the St. Mathew Lutheran Church in Mapleton and member of the Ladies Aide. She was a very jovial lady who loved cooking, baking, visiting with her friends, and playing cards with children, grandchildren and great grandchildren. Friends of her children were always welcome, whether it was for riding Shetland ponies in the early years or cooking pizza after ball games.

She was also a very independent woman who lived on that same farm for the next 57 years, during which time she survived getting caught in a power-take-off and a fall down her steep basement steps carrying two baskets of eggs. Lillian was eventually convinced to move to an apartment in Danbury at the age of 96 where she resided for the next two years prior to relocating to her new residence at Welcove Assisted Living in Spirit Lake, Iowa.

Lillian is survived by her children: Myron (Jane) Wodtke of Spirit Lake, IA and Linda (Dave)
Colbert of Danbury, IA; grandchildren: Tim (Leslie) Wodtke of San Antonio, TX, Mike
(Vicki) Wodtke of Estherville, IA, Nate Colbert of Danbury, IA, Alyssa (Brian) Bloomhardt of Overland Park, KS, Jason (Krystal) Colbert of Altoona, IA; 11 great-grandchildren; sister Wardene Overhue; brother-in-law Jim Wodtke; and numerous nephews and nieces.

She was preceded in death by her parents; her husband, Martin; an infant son, Frederick; a sister who died in infancy; brother Pete Paulsen; four brothers-in-law; and five sisters-in-law.
Read More
Previous Events
Graveside
Mt. Hope Cemetery
Mapleton, Iowa