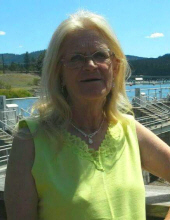 Obituary for Lila Mae Van Houten-Volkmann
Lila Mae Van Houten-Volkmann, age 63, passed away on August 1, 2017.
A Memorial Graveside Service will be held at 10:00 a.m., Wednesday, August 1, 2018 at the Mt. Hope Cemetery of Battle Creek, Iowa. Pastor Marty Davis will officiate. The Armstrong - Van Houten Funeral Home of Anthon, Iowa is in charge of the funeral arrangements. Condolences may be sent online www.armstrongfuneral.com.

Lila Mae Van Houten-Volkmann was born on May 21, 1954 in Battle Creek, Iowa. The daughter of Carleton Collins and Blanche Vernelle (Lochner) Van Houten. She moved to Texas in 1995 and remained until her passing on August 1, 2017 at the age of 63. She was an amazing single mother, who worked tirelessly to earn her Nursing Degree to achieve her dreams and support her children. To her, family was most important. She was always going above and beyond for family, friends, coworkers, and her patients who she loved and cared for deeply.

Lila enjoyed reading, baking, making Christmas candies, having barbecues, pool parties, and especially spending time with family. She would travel to spend time with extended family members, including her brothers and sisters, always looking forward to the next get together. She was the one to call when you needed a question answered, had a bad day or just wanted to chat. Her children idolized her, to them she was and always will be their hero. She was a kid at heart. She was the first to start a silly string or squirt bottle war. She loved spending time with her grandchildren, enjoying sleepovers, catching fireflies, and playing board games. She immersed herself in all of the enjoyments of being a grandma and great-grandma.

Survivors include 4 children: Anita (Tom) Williams, Peggy (Ken) Hammond, Misty (Ronald Jr.) Urdiales, Jeff (Amanda) Volkmann; grandchildren: Beau (Becca) Williams, Brittany (Jake) Bainter, Bethany Batten, Trent Kirchner, Trevor Kirchner, Nathan (Joey) Brant, Ethan Urdiales, Adrienne Urdiales, Olivia Urdiales, Sammy Volkmann, and Nick Volkmann; 8 great-grandchildren; 3 brothers: Gay (Marilyn) Van Houten, Mert (Rosaline) Van Houten, Denny (Linda) Van Houten; sister Jervae (Butch) Downing; best friend Bobby Urdiales.

She was proceeded in death by her parents Carleton and Blanche Van Houten; son Jerry Dennis Van Houten; brother Vernon Van Houten; sisters Anita Van Houten and Lynelle Van Houten.

She was called Home too soon and will be remembered always.
Read More