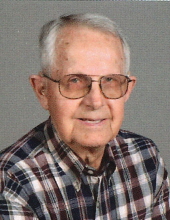 Obituary for Leon "Swede" J. Ortner
Leon J. "Swede" Ortner, age 86, of Danbury, Iowa, passed away on Tuesday, March 17, 2020, at the MercyOne Siouxland Regional Medical Center in Sioux City, Iowa.

Due to the present mandated healthcare precaution, A Private Family Graveside Service will be held in the Danbury Catholic Cemetery of Danbury, Iowa, with Father Richard D. Ball officiating. A Public Memorial Mass and Visitation will be at a later date. The Armstrong - Van Houten Funeral Home of Mapleton, Iowa is in charge of the funeral arrangements. Condolences may be sent online www.armstrongfuneral.com.

Leon J. "Swede" Ortner was born on June 9, 1933, in Danbury, Iowa. He was the son of Louis and Appolonia "Lonie" (Kleine) Ortner. Swede grew up in rural Danbury where he received his education and graduated from Danbury Catholic High School with the class of 1950.

After graduation, Swede worked as a hired hand for local farmers before enlisting in the United States Army in January of 1953. While serving his country, Swede was stationed overseas in Stuttgart, Germany, during the Korean Conflict. He was honorably discharged from the service in December of 1954 and upon returning home Swede decided to continue his education. He enrolled in Creighton University and after 2 ½ years of instruction, Swede chose to leave Creighton and go to work for his cousin Arnold Ortner.

On October 1, 1960, in the St. Mary's Catholic Church of Danbury, Swede married the love of his life Mary Gilbert. The couple first settled on a farm west of Danbury and then moved to a farm place northwest of Danbury. Swede engaged in farming in 1963 and in 1978 he also started preparing taxes at Main Street Tax.

Swede was a member of Carlson-Frum Post No. 336 of Danbury and proudly served as a past Finance Officer, Chairman, and Commander. He gave back to his community as a liaison for the Senior Citizen Meal Service, an Agricultural Representative for the Woodbury County Commission to assess damages and was in the 6-gallon club as a blood donor to help save lives.

Swede was a devoted Christian and faithful member of St. Mary's Catholic Church of Danbury. He was a 3rd Degree Knight in the Knights of Columbus and enjoyed lending his voice to the adult choir, served as a Eucharistic Minister and Lector.

Swede retired from preparing taxes in 2012 and continued farming up until 2015. The couple then moved into town.

Swede is survived by his wife of 59 years, Mary Ortner of Danbury, IA; sister-in-law, Dorothy Ortner of Mapleton, IA; numerous nieces, nephews, cousins, extended family and friends.

He was preceded in death by his parents, Louis and Appolonia "Lonie" (Kleine) Ortner; siblings: Merlin Ortner, Marion (Joe) Bolan, Pauline (Dan) Flanagan, Melvin Ortner, Patricia Ortner (at the age of 2), Shirley (Keith) Pithan, and Janice (Bob) Mitchell.
Read More