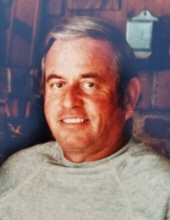 Obituary for Lawrence Dean Armour
Lawrence "Dean" Armour, age 86, passed away July 23, 2018. He was born in Sioux City, IA, on January 9, 1932, the son of Lawrence and Irene Armour. Dean graduated from Allen High School in 1949.

Dean served in the U.S. Navy and was a veteran of the Korean War. He resided in Titusville, FL while working for NASA at the Kennedy Space Center (Apollo 11 Launch Team 1969 which landed the first 2 men, Neil Armstrong & Buzz Aldrin on the moon), and then had a career with Britt's Air Conditioning.

After retirement he and his wife Kay moved to Schleswig, IA. He also lived in Smithland, IA prior to residing in the Maple Heights Nursing Home in Mapleton, IA. Dean's hobbies were reading, shooting pool, poker, hunting and spending time with family.

He is survived by three daughters: Deanne Ochs of Lake Worth, FL, Debbie McKinney and Pam Armour both of Merritt Island, FL; 7 grandchildren; 3 great-grandchildren; sister-in-law Ardith Armour of Moville, IA; 5 nieces and nephews.

Dean was preceded in death by his wife Kathryn "Kay" Armour, parents Lawrence and Irene Armour of Allen, NE; brother Myron Armour of Smithland, IA.

There will be a private celebration of his life and burial in Allen, NE, at a later date.
Read More