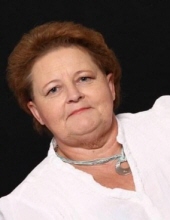 Obituary for LaDonna K. Reisdorph
LaDonna K. Reisdorph, age 65, of Oto, Iowa, passed away on Sunday, February 14, 2021, at her residence of Oto, Iowa.

No services will be held at this time. A memorial service may be held at a later date. The Armstrong - Van Houten Funeral Home of Anthon, Iowa, is in charge of the funeral arrangements. Condolences may be sent online www.armstrongfuneral.com.

LaDonna Kay Reisdorph, the daughter of Kathleen (McClimans) and Duane Banta, Sr., was born on March 27, 1955, in Sioux City, Iowa. LaDonna was raised in the Rodney and Oto, Iowa, areas and attended Anthon-Oto High School. After high school LaDonna entered the workforce in Sioux City, Iowa.

On April 8, 1985, LaDonna was united in marriage to Daniel Reisdorph. The couple lived in Sioux City until 1993 when they moved to Oklahoma and then eventually to Missouri. While in Missouri, LaDonna was active in the VFW Auxiliary and Fraternal Order of the Eagles. She enjoyed tending to her horses and volunteering at the Double H Boys Ranch. In August of 2020 LaDonna moved back to Oto to be closer to her family.

LaDonna and Daniel enjoyed attending and participating in rendezvous such as the Lewis and Clark Festival. In their younger years they enjoyed taking motorcycle rides as well as fishing and camping. LaDonna enjoyed crafting, sewing, baking, and making candies. She treasured spending time with her family and spoiling her grandchildren. She will be dearly missed by those who knew and loved her.

Left to cherish her memory include her son Alan (Rebecca) Reisdorph of Princeton, LA and his children Kalin, Elizabeth and Lydia; her daughter Tami Banta of Anthon, IA and her children Kiali, Alanna (Draven), Cole (Alex), Gage, Broc, Khloee and Danika; 3 additional grandchildren: Crystal, Jordan and Matthew; 6 great-grandchildren; brother Ardel "Butch" Banta of Salix, IA; sisters-in-law Patty Gotto of Mapleton, IA and Yvette (John) Shinn of Marquette, IA; brothers-in-laws Kermit (Fiorenza) Reisdorph of Platte, NE, Ron Reisdorph of Weeping Water, NE, Bruce (Brenda) Reisdorph of Yankton, SD and Rex (Mary) Reisdorph of Holstein, IA; numerous nieces, nephews, extended family and friends.

She was preceded in death by her parents Kathleen and Duane Banta, Sr.; husband Daniel Reisdorph; daughter Hope Banta; brother Duane Banta, Jr.; in-laws Lucille and Lee Reisdorph; sisters-in-law Diane Banta, Labonna Reisdorph and Annlee Reisdorph; nephew Benji Banta.
Read More