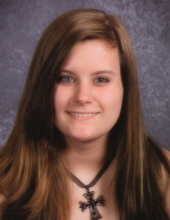 Obituary for Kylie Rose Hayworth
Kylie Rose Hayworth, 20, of rural Correctionville, Iowa passed into the arms of her Savior on July 19, 2016 after a courageous battle with medulloblastoma brain cancer.

A Funeral Mass of Christian Burial will be held at 10:30 a.m., Saturday, July 23, 2016 at the St. Joseph Catholic Church of Le Mars, Iowa. Father Kevin Richter will officiate. Committal Services will follow in the Calvary Cemetery of Le Mars, Iowa. A Visitation will be held from 4:00 p.m. to 7:00 p.m., with a Rosary Service at 6:45 p.m., followed by a Vigil at 7:00 p.m., on Friday, July 22, 2016 at St. Joseph Catholic Church of Le Mars, Iowa. The Armstrong - Van Houten Funeral Home of Anthon, Iowa is in charge of the funeral arrangements. Condolences may be sent online to www.armstrongfuneral.com

Kylie was born April 3, 1996 at a Sioux City hospital, the daughter of Kyle and Linda (Grasso) Hayworth. Kylie was baptized at St. Joseph's Catholic church in Anthon and received her first communion and confirmation at St. Joseph's Catholic church in Le Mars, Iowa. Her motto from very early in her young life was Philippians 4:13, "I can do all things through Christ who strengthens me." This was evident in her lengthy fight against brain cancer, which she bravely fought for over three years. She was an inspiration to everyone that met her.

She had just begun her kindergarten year at River Valley when the family moved to Le Mars, where she received her elementary education at Kluckhohn school and completed her middle and high school education at LeMars Community school. While a junior in high school, she was diagnosed with medulloblastoma, a type of brain cancer that was rare for her age. After several major surgeries and confined to a wheelchair, she graduated with her class in 2014 where she was a member of the National Honor Society, Spanish Club, and was elected homecoming queen in the fall of 2013. She had been active in drama, choir and had played the violin in the school orchestra. Kylie loved school and had planned to major in forensic science. With her love for science and to help find a possible cancer cure to help someone else, she has donated her brain with the cancerous tumors to be studied by the MAYO Clinic in Rochester, MN.

Kylie had made a 'bucket list' of things she wanted to complete while still able. In March of 2015 the Make a Wish foundation sent Kylie and her family to The Vatican where she received a personal blessing from Pope Francis, a high light of her life and at the top of her bucket list. She had a hot air balloon ride with Kim Rosenboom on his final flight, she went tandem sky diving, swam with dolphins and a baby tiger, pet a sloth, snorkel, zip lined, had a dog sled ride, got a tattoo, petted Kenya the zebra, among other things. She was grateful to those that helped make her 'bucket list' happen.

In 2015 the family built and moved into a handicap accessible home on an acreage west of Correctionville, Iowa. Kylie enjoyed being in the country near her grandparents, planting a garden. She also loved watching her beloved Siberian Husky, Miya Rose, run; she had a passion for animals.

She was preceded in death by her great grandparents.

Kylie is survived by her parents Kyle and Linda (Grasso) Hayworth, a sister Haley, all of rural Correctionville, grandparents Len and Mary Grasso of Dakota Dunes, and Dale and Virginia Hayworth of rural Correctionville, several aunts and uncles, cousins and friends around the world.

In lieu of flowers, Kylie has requested a donation to be made to the family for the Kylie Hayworth Memorial fund.
Read More
Previous Events
Visitation
St. Joseph Catholic Church-Anthon
400 East Randolph Street
Anthon, IA 51004
Rosary Service at 6:45 p.m. Vigil Service at 7:00 p.m.
Service
St. Joseph Catholic Church
Le Mars, IA