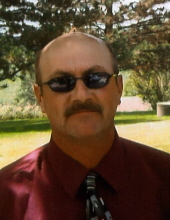 Obituary for Karis M. Gluesing
Karis M. Gluesing, age 57, of Ute, Iowa, passed away on Thursday, January 28, 2021, at his residence of Ute, Iowa.

No services will be held at this time. A Celebration of Life may be held at a later date. The Armstrong - Van Houten Funeral Home of Ute, Iowa, are in charge of the funeral arrangements. Condolences may be sent online www.armstrongfuneral.com.

In lieu of flowers, memorials in Karis' name may be made to the American Diabetics Association https://diabetes.org/.


Karis Mark Gluesing, the son of Larry Gluesing and Kathleen (Besanson) Kiepe, was born on June 5, 1963, in Denison, Iowa. He grew up in Ute, Iowa and attended Charter Oak-Ute High School. After high school he attended Western Iowa Tech and received an electrical degree.

Karis was a carpenter by trade and was happiest when he was building something with his hands. He was a kind and gentle man who loved spending time with family and friends. Karis made friends easily and was known for his quick wit and sense of humor. He always had a smile on his face and a joke on his lips. There was nothing Karis liked better than interesting conversation with good friends. He could start a conversation with anyone. He will be dearly missed and forever remembered by those who knew and loved him.

Those left to cherish his memory include his parents Kathleen Kiepe of Ute, IA and Larry (Jan) Gluesing of Cape Girardeau, MO; brother Chad (Rachael) Kiepe of Ute, IA; nephews and nieces Dylan, Landon, Leah and Lydia Kiepe all of Ute, IA; and uncle Karis Besanson of Dallas, TX.

He was preceded in death by his maternal grandparents Ward and Leah Besanson; paternal grandparents Arnold and Hattie Gluesing; and stepfather Irvin Kiepe.
Read More