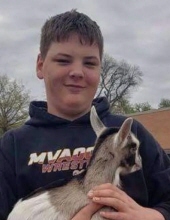 Obituary for Joseph "Joe" M. Hopkins
Joe M. Hopkins, age 16, of Mapleton, Iowa, passed away on Friday, January 31, 2020, in Mapleton, Iowa.

A Visitation will be held from 2:00 p.m. to 4:00 p.m. on Sunday, February 9, 2020, at the MVAOCOU High School of Mapleton, Iowa. Private Family Burial will be held in the Battle Center Cemetery of Rural Battle Creek, Iowa, with Father Richard D. Ball officiating. The Armstrong - Van Houten Funeral Home of Mapleton, Iowa is in charge of the funeral arrangements. Condolences may be sent online www.armstrongfuneral.com. A Memorial Fund has been set up with First State Bank and donations may be made at any of the locations.

Joseph "Joe" M. Hopkins, the son of Crystal (Troy "Dude" Uhl) Hopkins and Shannon (Jenniffer Cedeno) Hopkins, was born on October 29, 2003, in Ida Grove, Iowa. He grew up in the Mapleton, Iowa area where he was currently a sophomore at MVAO-COU High School.

A young man with promise, Joe was never one to complain or talk back. He was a determined and outgoing young man, who enjoyed working on the farm, fixing cars, camping, fishing, woodworking, spending time with his friends, and would pause to help anyone in need. Joe was an avid Chicago Bears and Hawkeye fan and a dedicated Ford truck guy. He loved the great outdoors under the stars by the warmth of a bonfire or casting his fishing pole at every opportunity.

You may remember Joe in his F-150 with his faithful four-legged companion, Sparky, driving around town or heading home from chores at the hog shed. A devoted son, brother, and friend, Joe has left his print on the world and will be fondly remembered by those who loved him.

Left to cherish his memory are his parents Crystal (Troy "Dude" Uhl) Hopkins of Mapleton, IA and Shannon "Huss" (Jenniffer Cedeno) Hopkins of Ida Grove, IA; siblings Jaxon Hopkins, Destiny Roling, Ethan Uhl, Melissa Cedeno, Kelsie Cedeno, and Emily Woodward; grandparents Julie (Todd) Susie, Dwayne (Lorrie) Roling, Norma Uhl, Clarence "Joe" (Larrene) Hopkins; great-grandparents Punky Schumacher, Vernon Susie and Joyce Roling; aunts and uncles Trisha (Tim Paullin) Sadler, Zach Roling, Tonya (Kevin)Uhl, Lisa (Dan) Clipperton, Shelby Miller, Sarah (Anthony) Rodriquez; cousins Hunter, Colton, Tate, Bodin, Bailey; nieces & nephews Colton, Connor, Evelyn and Chelsie; his beloved dogs Sparky & Max; numerous extended family and friends.

Joe was preceded in death by his grandmother Donna Hopkins; grandfather Marvin "Gooter" Uhl; great-grandfathers Artie Schumacher and Marvin Roling; great-great-grandmother Hattie Susie; uncle Dusty Roling; and sister Rebecca Cedeno.
Read More
Previous Events
Visitation
MVAOCOU High School
501 South Seventh Street
Mapleton, IA 51034