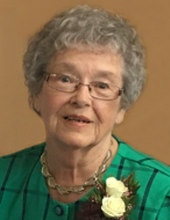 Obituary for Joann J. Mitchell
Joann Mitchell, age 86, of Ute, Iowa, passed away on Saturday, November 12, 2022, at Burgess Health Center of Onawa, Iowa.
A Memorial Service will be held at 1:00 p.m., on Saturday, November 26, 2022, at the Soldier Lutheran Church of Soldier, Iowa. Pastor Paul Coen will officiate. A Visitation held one-hour prior to the service from 12:00 p.m. to 1:00 p.m., on Saturday, November 26, 2022, at the Soldier Lutheran Church of Soldier, Iowa.
The Armstrong - Van Houten Funeral Home of Ute, Iowa, is in charge of the funeral arrangements. Condolences may be sent online www.armstrongfuneral.com.
Joann Jeanette (Hansen) Mitchell was born on April 3, 1936, to Nels and Lydia (Thygesen) Hansen on a farm near Irwin, Iowa. She was welcomed by her parents, an older sister Betty, her twin sister Jean, and was joined 12 years later by her sister Susan. When she was younger Joann attended country school, walking a mile each way every day. She graduated from Irwin High School in 1954 then was employed by an insurance company in Omaha, Nebraska.
While attending a dance in 1955 Joann met the love of her life, Darrell Mitchell, and they were married a year later on December 8, 1956. The couple made their home on Darrell's grandmother's farm in Crawford County, close to Charter Oak, Iowa. To this union three children were born: Brenda, Mike and Lori.
Faith was very important to Joann. She was a member of the Soldier Lutheran Church and made sure her family attended church, Sunday school, Bible school, and later confirmation every week, as well as doing their memory work.
Joann and Darrell belonged to the neighborhood card club, playing euchre every Friday night from after harvest until planting time in the spring. She raised a large garden every year, canning and freezing her bounty for the family to enjoy. She also enjoyed flowers and planted marigolds around the house. JoAnn taught herself to sew and made clothes for her daughters. Knitting items for the fall church bazaar was a labor of love for her. She also loved taking long walks in the pasture with her dogs.
Joann passed away from cancer, dementia, and COVID. Her battle on Earth is over. She is with the Lord.
She is survived by her husband Darrell Mitchell of Ute, IA; her children Brenda Newell of Storm Lake, IA, Mike Mitchell of Ute, IA and Lori (Ben) Robertson of Mesa, AZ; grandchildren Symone McCreight, Kyle Newell, Grace Newell, Cody Robertson, Cole Robertson, Cade Robertson, and Kristina Robertson; great-grandchildren Azaleia McCreight, Ryland McCreight, and Averleigh Newell; sisters Jean Freestone of Apache Junction, AZ and Susan Gessert of Elk Horn, IA.
She was preceded in death by her parents Nels and Lydia (Thygesen) Hansen and her sister Betty Pospisil.
Read More
Previous Events
Visitation
Soldier Lutheran Church
Soldier, IA 51572
Memorial Service
Soldier Lutheran Church
Soldier, IA 51572