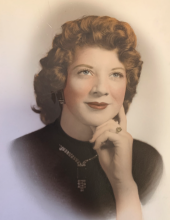 Obituary for Joan F. Ohlmeier
Joan F. Ohlmeier, age 80, of Ute, Iowa, passed away on day, December 3, 2019 at the Maple Heights Nursing Home of Mapleton, Iowa.

A Celebration of Life will be held at 6:30 p.m., Sunday, December 8, 2019, at the Armstrong – Van Houten Funeral Home of Ute, Iowa. Inurnment will take place at a later date in the St. Clair Township Cemetery of Ute, Iowa. The Armstrong - Van Houten Funeral Home of Ute, Iowa is in charge of the funeral arrangements.
Condolences may be sent onlinewww.armstrongfuneral.com.

Joan Barnes, a blue eyed red haired beauty, was born to Dale and Margaret Barnes on March 6, 1939, on a farm in Mapleton, Iowa. She lived a modest and loving childhood with her parents and four beloved sisters. Throughout her life, Joan remained close to her family.

On January 19, 1958, Joan married Wayne Ohlmeier. Joan and Wayne had four children that they raised on a family farm just outside of Ute, Iowa. The couple worked on the farm for about 20 years; however, once their children were grown and living on their own, Joan and Wayne shared many adventures together. They worked on a living history farm in Minnesota, operated a food wagon for a traveling carnival, and wintered in Texas. The couple loved to travel and see new things.

Joan worked in a nursing home in Dunlap, Iowa and in the kitchen at the Ute Elementary School. Joan loved these jobs because it gave her the opportunity to serve others. She had a lifelong devotion to helping others. The more "down and out" a person was, the more determined she was to help them. Joan gave everything she had to the people she loved and the ones who needed her help most.

Her devotion to God and the Catholic church was important to her. She consistently prayed each day for family, friends, and the world. Her faith and passion for the sanctity of life was passed on to her children. She had a love for animals and an endless amount of energy that anyone could feel when she walked into a room. Joan had a fierce devotion to her sisters, especially her best friend Kathy who she remained close to her until the end of her life.

She is survived by her children, Mike (Jane) Ohlmeier of Ricketts, IA, Tammy (Lyle) Bramley of Ute, IA, and Todd Ohlmeier of Hamburg, IA; son-in-law John Wooster of Idaho; sisters, Darlene Snow of Castana, IA, Kathy Carlson of Ute, IA and Janet (Gene) Schneekloth of Omaha, NE; grandchildren and great-grandchildren; extended family and friends.

Joan was preceded in death by her parents, Dale and Margaret Barnes; loving husband, Wayne Ohlmeier; beloved daughter Margaret Wooster; and sister, Donna Hintz.

In lieu of flowers, please make a donation to Mary's Choice, 4415 Stone Ave., Sioux City, IA 51106, in honor of Joan's memory.
Read More
Previous Events
Celebration Of Life
Armstrong - Van Houten Funeral Home - Ute
501 South Day Avenue
Ute, IA 51060