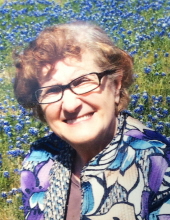 Obituary for Jeanette H. Cavin
Jeanette H. Cavin, age 82, of Pflugerville, Texas (formerally of Anthon, Iowa), passed away on Wednesday, September 21, 2016, at her home in Pflugerville, Texas.
A Funeral Service will be held at 11:00 a.m., Tuesday, September 27, 2016, at the Armstrong – Van Houten Funeral Home of Anthon, Iowa. Pastor Keith Hair will officiate the service, with the committal services following in the Oak Hill Cemetery of Anthon, Iowa. Visitation will be held one hour prior to the service from 10:00 a.m. to 11:00 a.m., Tuesday, September 27, 2016 at Armstrong – Van Houten Funeral Home of Anthon, Iowa. The Armstrong - Van Houten Funeral Home of Anthon, Iowa is in charge of the funeral arrangements. Condolences may be sent online to www.armstrongfuneral.com

Our passionate mother explored the art of numerous cultures in all their depth.  She expressed herself in many styles and forms; ceramics, oil painting, and drawings. She also created an exquisite assortment of heirloom quilts for anyone who asked. Her works of art are beloved and hang in homes and public buildings all over the world.
Most notably, she was an inspiringly adventurous spirit; she was lucky enough to travel with her loving daughter who was stationed around the world. Her adventures took her to dream like places from the forests and castles in Germany to the mountains of Japan. She lived in many of the world's most iconic cities and loved to share her adventures with her beloved family and friends.  Even though she lived in far off places, her children, grandchildren, great and great- great children were the burning light within her. We would often receive unique treasures from around the globe. She will be forever be remembers for her spitfire passion for social justice, and her deeply felt pride of her culturally diverse family. She leaves us a rich legacy of loving devotion and the lessons of a soaring free spirit that taught us all the beauty of existence.
  I'm sure we all have our very own personal memories of Jeanette, far too many to name here, but we can all agree that her love of ice cream surpassed almost all things. The smell of fresh baked bread and cookies lived wherever she did, the peace that she got from crocheting and painting and I am sure she attempted to teach each of us how to do one or the other at some point in time. She loved her shows especially Maury and the Price is Right. Jeanette literally knew all of the news from every city in the country and was always ready to discuss what was going on in the world. 
Her grandchildren and great and great-great grandchildren remember the clothes, blankets and sweets she made for us all and could never forget the amazing stories of how terrible we and our parents were as small children.
She was the kindest, most compassionate, stubborn, cynical, sarcastic and feisty person that many of us knew. She was loved and will be dearly missed.
Jeanette was preceded in death by her parents; two sisters , Velma Newman and Irene Hair; and one brother, Dale "Tony" Bolles.
Those left to cherish the memory of our Jeanette include: her children; Jerry Cavin, Debra Wilson, Jim Cavin, Timothy Cavin, and Danny Cavin. Her grandchildren and great grandchildren as well as a host of friends and family throughout the world.
Read More
Previous Events
Visitation
Armstrong - Van Houten Funeral Homes - Anthon
402 East Brady Street
Anthon, IA 51004
Service
Armstrong - Van Houten Funeral Homes - Anthon
402 East Brady Street
Anthon, IA 51004