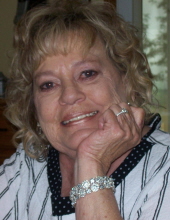 Obituary for Jean Ann Nepper
Jean A. Nepper, age 70, of Ute, Iowa, passed away on Monday, October 14, 2019, at the Maple Heights Nursing Home of Mapleton, Iowa.

A Funeral Service will be held on Friday, October 18, 2019, at 10:30 a.m., in the St. Paul's Lutheran Church of Ute, Iowa. Pastor Nathan Peitsch will officiate. Committal Services will follow in the St. Clair Township Cemetery of Ute, Iowa. A Visitation will be held on Thursday, October 17, 2019, from 5:00 p.m. to 7:00 p.m., in the St. Paul's Lutheran Church of Ute, Iowa. The Armstrong - Van Houten Funeral Home of Ute, Iowa is in charge of the funeral arrangements. Condolences may be sent online www.armstrongfuneral.com.

Jean Ann Nepper was born November 22, 1948, in Ute, Iowa, the daughter of Donald and Helen (Shreeves) Halverson. Jean was baptized in Christ on May 22, 1949, at the Soldier Lutheran Church of Soldier, Iowa and was confirmed in the same church. This was the original Lutheran Church on the corner in town. She loved this church and it held so many precious memories.

Jean received her education at Soldier Public School, until it consolidated with Moorhead, Iowa. She finished the rest of her education at East Monona Public School located in Moorhead. Jean graduated with the class of 1967 and reminisced on how much fun she had. She treasured spending time with her classmates and had friends in all grades. Her fondest memories were of playing basketball. During her school years, she participated in basketball, softball, and track.

After working a short time at Mutual of Omaha, Jean moved back to Soldier and married Curtiss Hugh Nepper. After Curtiss was finished serving his country, Jean and Curtiss made their home in Ute. Jean met Curtiss while washing her dad's car in the driveway when she was 14 years old and when Curtiss drove by, they both knew right away that they were meant for each other. She always enjoyed telling this story on how they first met (with a twinkle and a giggle).

Jean will be remembered as a person who treasured her entire family. She enjoyed watching all 3 of her children in sports and music. In later years she enjoyed watching her grandchildren participate in their activities. In her younger years, Jean loved getting together with her mother and two sisters. They would always get together for coffee and giggles. Their mother Helen had quite the sense of humor when she was with her daughters. They shopped with a passion as most sisters and their mothers do and laughed when perhaps they shouldn't.

When Curtiss served his country in Vietnam, Jean spent every minute of the day writing to him and praying to the Lord for his safe return. Her favorite thing was to read books to her children when they were toddlers. She would read to them every evening, until they had every book almost memorized. She loved to garden, cook and bake. Jean especially enjoyed helping Curtiss when he needed a farmhand. Some of the jobs he gave her were not the best but she did them. He taught her how to get her hands dirty, which was quite a job since originally, she was not a farm girl. Jean also helped her friends with fundraisers to build a tennis court for the town of Ute. She had strong faith and was a member of the St. Paul's Lutheran Church of Ute.

Those left to cherish her memory include her husband Curtiss Nepper of Ute, IA; sons, Justin (Jill) Nepper of Urbandale, IA and Gentry Nepper of Grimes, IA; daughter Tawny (Heath) Nepper Langenfeld of Grimes, IA. Jean's life was blessed with 6 grandchildren who were so special to her: Sydney, Lauren, Taylor, Lily, Pace and Kai; Jean claimed she behaved her best when around her grandchildren, although her adult children will tell you something quite different. She also leaves behind sisters Nancy (Gary) Carlson of Lake Ozark, MO and Carole (Don) Thoreson of Ankeny, IA; sister-in-law Joyce (Bob) Halverson; many nieces, nephews, other relatives and treasured friends.

She was preceded in death by brother, Bob Halverson. Bob was a good brother, and Jean always considered him her "pal"; her parents, Donald and Helen Halverson (Jean always called her mother and father the most beautiful and caring people); and another favorite of Jean's, her Uncle Clare. Clare taught Jean a lot about history before he passed away at age 63. Jean always said listening to Clare's stories about the war prepared her for what her husband Curtiss would go through.
Read More
Previous Events
Visitation
St. Paul's Lutheran Church, Ute
303 E 4th St
Ute, IA 51060
Funeral Service
St. Paul's Lutheran Church, Ute
303 E 4th St
Ute, IA 51060
Cemetery Details
Location
St. Clair Cemetery
Ute, IA