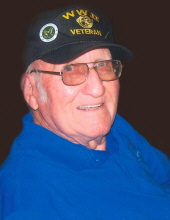 Obituary for Herbert Max Hahn, Jr.
Herbert M. Hahn, Jr., age 102, of Omaha, Nebraska (formerly of Mapleton, Iowa) passed away on Saturday, June 11, 2022, at Remington Heights of Omaha, Nebraska.

A Memorial Service will be held at 10:30 a.m., Monday, July 11, 2022, with a Visitation held one-hour prior from 9:30 a.m. until 10:30 a.m., at the United Church of Christ of Mapleton, Iowa. Pastor Linda Boggs will officiate. Committal services will follow in the Mount Hope Cemetery of Mapleton, Iowa. Military Rites will be conducted by Loren Hollister Post #496 of the American Legion of Mapleton, Iowa and VFW Post #2503 of Omaha, Nebraska.

The Armstrong - Van Houten Funeral Home of Mapleton, Iowa, is in charge of the funeral arrangements. Condolences may be sent online www.armstrongfuneral.com.

Memorials in Herbert's name may be directed to the WWII Memorial Museum, the Monona County Veteran's Museum or one of your favorite charities.

A Facebook Live of the memorial service will be available on the Armstrong-Van Houten Funeral Home Facebook page: https://www.facebook.com/armstrongfuneral

Herbert M. Hahn, Jr. was born October 14, 1919, in Mapleton, Iowa, the first-born son of Herbert M. Hahn, Sr. and Lucile (Hall) Hahn. He attended country schools in the area and graduated with the Mapleton High School Class of 1937. After graduation, he worked with his father in a Skelly Gasoline tank-wagon service to help support the family at home which now included eight younger siblings. Inducted into the service in July of 1942, he attended the Army's National Radio School in California and trained as a radio/transmitter operator. Arriving at Algiers early in 1943, he helped to set up and run radio relay stations at sites in North Africa, Italy (including duty at the Anzio Beachhead), the Island of Malta, France, and Germany until the war ended. After his service, he ran a Skelly service station in Mapleton until the early 1960's. He became a city mail carrier with the U.S. Postal Service in Mapleton until his retirement in November of 1987.

On June 8, 1947, Herb married Gwenith Lee Jordan from Charter Oak, Iowa. They made their home in Mapleton and raised four children. They enjoyed dancing (especially polkas and square dancing), playing cards, growing vegetables in their garden, and traveling. They spent a considerable number of winters in New Mexico and Texas, enjoying the sunshine and long-awaited grandchild. Herb and Gwen moved to Omaha, Nebraska, in August of 2011. Gwen passed away in 2013. Herb made many friends at Woodbridge Senior Village in Omaha, where he was the undisputed king of playing the board game of Sequence, and he took much time and care to construct and sell the game boards himself. He marked his 100th birthday in 2019 with celebrations in both Nebraska and Iowa.

Herb moved to Remington Heights Retirement Community in 2020. He still made new friends despite restrictions the pandemic caused. He kept a dictionary by his side and loved doing jumble puzzles, rarely cheating. During his last hospital stay and rehab (during which time he turned 102), he asked for pen and paper to write letters and for his dictionary. He loved to read and to watch baseball and football on television, especially since he could tell what was going on without having to put in his hearing aids. He was thrilled to receive the French Legion of Honor in 2021 at a ceremony at Remington attended by fellow veterans and guests, congresspeople, local officials, and the Counsel General of France. On the Monday before he passed away, he was interviewed for a podcast by the non-profit organization, Heroes of the Second World War, whose mission is to reach and tell the stories of all WWII veterans while they are still with us. Timing is everything.

In addition to his wife, Herb was preceded in death by his parents; the first-born children of Herb and Gwen, triplets who died at birth in 1948; his daughter, Joyce Jensen, who passed away in 2021; and six of his siblings and their spouses, Pauline Botsford (Bill), Juanita Bachmann (Ralph), Norman Hahn (Pearl), Genevieve Rickert (Waldo), Henry Hahn (Margaret), and Francis Hahn. He also was preceded in death by his brother-in-law, Richard Delos Brooks.

Herb is survived by three of his children: Gary Hahn and his wife, Jill, of Omaha, NE; Glenda Hahn of Omaha, NE; and Jon Hahn of Kansas City, MO. His son-in-law, Tom Jensen, lives in Santa Fe, NM. He has three grandchildren, Mallory Jensen Crist (Brian) who lives in San Francisco, CA; and Andrew Hahn and Aaron Hahn who live in Omaha, NE. He has two great-grandchildren, Amalthea Jensen Crist and Galatea Jensen Crist who live in San Francisco, CA. He is survived by two of his sisters, Elizabeth Brooks of Colorado Springs, CO and Shirley Bertin of Miles City, MT; by sister-in-law Jean Hahn of Mapleton, IA; and by many beloved nieces and nephews, extended family, and friends.
Read More
Previous Events
Visitation
St. Peter's United Church of Christ
510 Ring Street
Mapleton, IA 51034
Memorial Service
St. Peter's United Church of Christ
510 Ring Street
Mapleton, IA 51034
A Facebook Live of the memorial service will be available on the Armstrong-Van Houten Funeral Home Facebook page: https://www.facebook.com/armstrongfuneral
Cemetery Details
Location
Mt. Hope Cemetery
Mapleton, Iowa