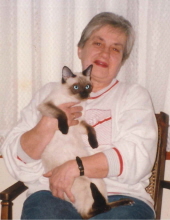 Obituary for Hazel Ann Riecks
Hazel Ann Riecks, age 88, of Mapleton, Iowa, (formerly of Danbury, IA) passed away on Monday, December 19, 2022, at the Maple Heights Nursing Home of Mapleton, Iowa.
A Funeral Service will be held at 2:00 p.m., with a Visitation held one-hour prior from 1:00 p.m. to 2:00 p.m., Tuesday, December 27, 2022, at the United Methodist Church of Danbury, Iowa. Pastor Kristin D. Boysen will officiate. Committal services will follow in the Liston Township Cemetery of Danbury, Iowa.
The Armstrong-Van Houten Funeral Home of Mapleton, Iowa, is in charge of the funeral arrangements. Condolences may be sent online www.armstrongfuneral.com.
Hazel Ann was born on August 21, 1934, on a farm outside of Boyer, Iowa, to Floyd and Emma (Otterpohl) Neville. Later the family moved to the Stapleton Farm between Cushing and Holstein, Iowa. Hazel completed the majority of her schooling in Cushing before the family moved to Danbury, Iowa, in the summer of 1951, where she graduated from Danbury High School with the class of 1952.
During the summer after her graduation Hazel was working in Ida Grove, Iowa, as a waitress when she met Tom "Trophy" Jensen. They were married in November of 1954 and lived happily until Tom was tragically killed in a construction accident on May 4, 1955. Their son, Tom "Hawk" (Jensen) Riecks, was born in July of 1955. In order to help support herself and her son, Hazel attended and graduated from the National Business Training School in Sioux City, Iowa.
In January of 1959 Hazel was united in marriage to William G. Riecks, Sr. in Sioux City. The family moved to Danbury where they welcomed their son William "Bill" Riecks, Jr. in January of 1960. Hazel stayed home to raise her sons when they were younger. After they were both in school, she worked at the Danbury Review newspaper, at the Hartley Memorial Hospital in Battle Creek, Iowa and as a waitress at the Truck Haven Truck Stop in Sioux City. William, Sr., passed away in January of 1978.
Hazel married Elmo Knobbe in August of 1981 and they lived in Danbury, wintering in Las Vegas, Nevada, often. They divorced in 1988.
Hazel's son, Tom "Hawk", his wife, Lorrie and their youngest son, Brian, were killed in a house fire in Council Bluffs, Iowa, on December 4, 1986. During all of the hard times she endured, Hazel persevered. She was a determined, strong-willed lady with a caring heart.
She loved bowling, playing cards, and visiting the local casinos. Among her collections you could find cardinals, angels, and bells. Hazel had a life-long love of everything Elvis Presley.
Left to cherish her memory include her son William "Bill" Riecks, Jr. of Mapleton, IA; daughter-in-law Deb Riecks of Hampton, IA; grandchildren Tom (Angel) Riecks of Fenton, IA and TeraAnne Riecks of Hampton, IA; great-grandchildren Ruthie Dykshorn, Tommy Riecks and Memphis Riecks; siblings Donna (David) Forbes of Ida Grove, IA and Lloyd Neville of Correctionville, IA; nieces, nephews, extended family and friends.
She was preceded in death by her parents Floyd and Emma Neville; husbands Tom "Trophy" Jensen, William Riecks, Sr. and Elmo Knobbe; son and daughter-in-law Tom "Hawk" and Lorrie Riecks; grandson Brian Riecks and one unborn grandchild; brother Chester Neville; and beloved cat Socks.
Read More
Previous Events
Visitation
Danbury United Methodist Church
200 Liston Street
Danbury, IA 51019
One-Hour Prior to the Service
Funeral Service
Danbury United Methodist Church
200 Liston Street
Danbury, IA 51019
Cemetery Details
Location
Liston Township Cemetery
Story Avenue
Danbury, IA 51019