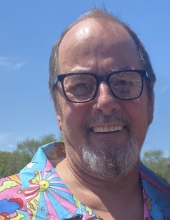 Obituary for Greg Allen Iverson
Greg Allen Iverson, age 70, of Ute, Iowa, passed away on Monday, April 24, 2023, at his residence of Ute, Iowa.
Per Greg's wishes, cremation has taken place. No services will be held at this time.
The Armstrong - Van Houten Funeral Home of Ute, Iowa, is in charge of arrangements. Condolences may be sent online www.armstrongfuneral.com
Greg Allen Iverson was born on November 3, 1952, in Valley City, North Dakota, to Larry and Dovie (Holien) Iverson. He graduated from Valley City High in 1970. Greg traveled while working various construction jobs and landed in Bennett, Colorado, where he met the love of his life, Teri Weller. The couple were married on March 7, 1983, in Aurora, Colorado. Greg and Teri were blessed with two children: Geremy and Gaila. The family settled in Ute, Iowa, to raise their kids in 1992.
Greg attended Western Iowa Tech Community College at the age of 40 and graduated with a 4.0 GPA, earning a degree in telecommunications. He then began his career at Frontier Communications in Denison, Iowa, where he worked until his retirement in 2017.
Greg and Teri celebrated their 40th wedding anniversary with their children and grandchildren on March 7, 2023. Greg took great pride in remodeling his home, tending his garden, and had a special passion for fireworks. Most recently, his interest was making sure his loved ones had just the right flashlight thanks to his newfound interest in online shopping, a post-retirement hobby.
Greg had many, many loves in life, but none like the love for his three grandchildren: Brianna, Garrett, and Aidin. Some might argue that his bond with his grandchildren was so strong because he may have aged, but he never grew up!
Greg passed away peacefully in his sleep on April 24, 2023, at his home in Ute, Iowa. He was proceeded in death by his parents Larry and Dovie (Holien) Iverson; and brothers Bob Iverson and Larry Iverson.
Left behind to honor his memory are his wife Teri Iverson of Ute, IA; son Geremy (Mandy) Iverson of Council Bluffs, IA; daughter Gaila (DeWayne Smith) Iverson of Omaha, NE; his perfect grandchildren Brianna Iverson (22), Garrett Iverson (17), and Aidin Iverson (13); lifelong friends Bruce Amundson, Al Engler, and Bill John; brothers Doug Iverson, Paul Iverson, and Shawn Iverson; brother-in-law Jerry Weller; sister-in-law Sarah Iverson; and many nieces, nephews, cousins, and special friends.
Read More