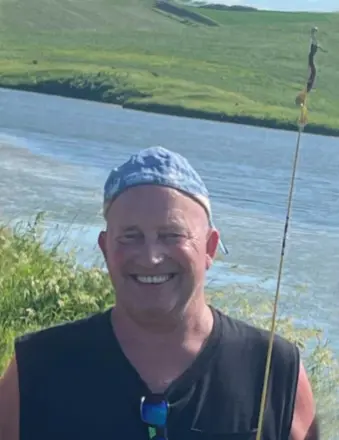 Obituary for Gerry "Jag" Schrank
Gerry "Jag" Schrank, age 61, of Danbury, Iowa, passed away unexpectedly on Thursday, July 6, 2023, at the MercyOne Siouxland Medical Center of Sioux City, Iowa.
A Funeral Service will be held at 11:30 a.m. on Wednesday, July 19, 2023, at the Armstrong-Van Houten Funeral Home of Mapleton, Iowa. Pastor B.J. Van Kalsbeek will officiate. Committal Services will follow in the Liston Township Cemetery of Danbury, Iowa.
A Visitation will be held from 5:00 p.m. to 7:00 p.m. on Tuesday, July 18, 2023, at the Armstrong-Van Houten Funeral Home of Mapleton, Iowa.
The Armstrong-Van Houten Funeral Home of Mapleton, Iowa, is in charge of the funeral arrangements. Condolences may be sent online www.armstrongfuneral.com.
Gerry Thomas "Jag" Schrank, the son of Rollie and Helen (Seuntjens) Schrank, was born on August 3, 1961, in Sioux City, Iowa. He grew up in Danbury, Iowa and received his education from MVAO High School graduating with the class of 1980. After high school, Gerry began farming with his twin brother. He also helped his father on the farm until his passing in 2010. For the last 13 years Gerry has been employed at Welte Vault Inc. in Danbury.
On July 17, 1988, Gerry was united in marriage to Sheri Bainbridge in Las Vegas, Nevada. The couple would later part ways. Gerry was the father to two beautiful and brilliant daughters, Shonda and Jatessa. He definitely passed down his best traits to them to create intelligent, caring, and independent women.
Gerry had a knack to create anything he set his mind to and make it to the highest of standards. When the kids were younger, he built them the BEST tree house there ever was! He was extremely particular and this was something he could take a little too far. However, it consequently meant he always had a clean, organized house and knew if something had ever been moved out of place.
As we all know, Gerry was one of a kind…except for the fact that he had an identical twin brother, Terry. Gerry was the one with the biggest smile and the one who could give you a run for your money if you were talking about anything to do with dates or numbers. He was most definitely a numbers man and would appreciate the fact that his death had some numerical twists in it and that his daughters discovered them. For example, he was 61 when he passed away and he was born in the year 1961. He was the 3rd one out and the 3rd to go and his birthday was on the 3rd. He would have been mind blown by these coincidences.
Gerry loved to fish and devour his catches. He handed this gift down to his daughters as well. He also knew a little something about gardening. His eldest daughter, Shonda, has been the one blessed with this knowledge as she has the biggest and most well taken care of garden in Battle Creek. From his garden, Gerry would pick onions and cucumbers which he learned to pickle. He developed a trick thanks to his daughters. Once he would pickle the cucumbers and onions the girls would fight over who would g¬et to snatch the onions up. So, he did what any father would do to combat the situation…he canned only onions and these became a hit! His youngest daughter, Jatessa, has run with this idea and now cans her own onions (JMart Ting Tangs) and they are up to his standards.
Gerry was a loving father, uncle, brother, and friend who will surely be missed for his rambling thoughts and random quizzes he would spry on you if you weren't paying attention to him. He may not have been perfect, but who is. Gerry lived life to the fullest, loved with all of his heart, and went out with a way that not even he could have made up.
Left to cherish his memory include his daughters Shonda (Beau) Rogge of Battle Creek, IA and Jatessa (Alyssa) Martin of Fort Dodge, IA; brothers Terry (Jan) Schrank of Sloan, IA, Joe (Deneen) Schrank of Danbury, IA and Ted (Sandi) Schrank of Sergeant Bluff, IA; his pets Thunder and Lightning; nieces, nephews, extended family and friends.
He was preceded in death by his parents Rollie and Helen Schrank; grandparents Leo and Helen Schrank and Siebert and Clara Seuntjens; brothers Sam and Max Schrank; nephew Rad Schrank; and his cat Shithead.
Read More