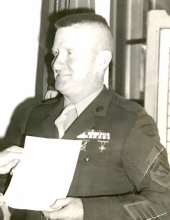 Obituary for Frank "Red" A. Hunter
Frank "Red" Andrew Hunter, age 86, of Carlsbad, California, passed away on Tuesday, November 28, 2017.

A Graveside Service will be held at 3:00 p.m., Friday, July 27, 2018 at the St. Clair Township Cemetery of Ute, Iowa. Lay Minister Rock Hunter will officiate; The Armstrong - Van Houten Funeral Home of Ute, Iowa is in charge of the funeral arrangements. Condolences may be sent online www.armstrongfuneral.com.



Frank "Red" Andrew Hunter died of natural causes on Tuesday, November 28, 2017 at 7:30 AM. Frank resided in Carlsbad, California at the time of his death. He was 86 years old.

Frank was born on September 11, 1931 in Council Bluffs, Iowa. He was the son of Joseph Christopher Hunter and Marty Lucy Hunter (Edwards). Frank is survived by his daughter and son-in-law, Dr. David and Rebecca Tam, of Carlsbad, California; his son, William Hunter; and his three grandchildren, Cameron, Cade and Zoe. Frank is also survived by two sisters, Lillian Hunter Carritt and Lois Hunter Nagel; and numerous nieces and nephews. In particular, Frank was very close to his brother Harold's children, Rock Hunter, Brad Hunter, both of whom reside in Southern California with their families; and Heather Hunter, who resides in Arizona with her family. Frank was predeceased by beloved siblings Keith Twiford, Ken Twiford, Reva Hunter Olson, Arladene (Deanie) Hunter DeLoss, Twila Twiford Rustin, and Dillon Hunter. His brother, Harold (Joseph) Hunter died shortly after Frank on December 31, 2017.

Frank graduated from Moorhead High School in 1950, and then briefly attended Morningside College, where he was a physical education major, before enlisting in the United States Marine Corps in October 1951. Frank served in Korea from July 1953 to November 1954. He later served in Vietnam from November 1965 until December 1966. Frank served his country with distinction for 21 years, retiring as a Master Sergeant in 1972. He was awarded the Navy Unit Commendation with Combat Action Ribbon.

After retiring from the military, Frank worked for Prudential Life Insurance and later for Wells Fargo in downtown Los Angles, where he retired again at age 62.

While in the military, Frank travelled all over the world, and he was well-known for sending home exotic gifts to all of his relatives back in Iowa. Frank resided primarily in San Diego while in the service. Later, during his civilian career, he resided in Los Angeles, where he enjoyed travelling around the city to bookstores to find interesting books to read. In addition to being a voracious reader, Frank was an avid basketball player in his early life, and later he particularly enjoyed watching horse races. In the last three years of his life, Frank resided once again in San Diego County in Carlsbad, where he could be closer to family.

Frank will be missed by many. He will be laid to rest near his family, who have all missed him and loved him, in Ute, Iowa. Committal service will be held on July 27, 2018 at 3PM at Saint Clair Cemetery, 202248 State Hwy. 141
Ute, Iowa.

In lieu of flowers, the family suggests donations be made in memory of Frank to the Navy-Marine Corps Relief Fund, an organization that Frank supported with donations his whole life, at Navy-Marine Corps Relief Society, Attn: Development, 875 N. Randolph Street, Suite 225, Arlington, VA 22203; or donate online at donate.nmcrs.org.
Read More
Previous Events
Graveside
St. Clair Cemetery
Ute, IA