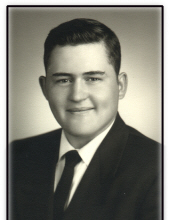 Obituary for Frank L. Schrunk
F.L. "Frank" Schrunk, 74, of Danbury, Iowa passed away Sunday, March 20, 2016, at Maple Heights Nursing Home in Mapleton, Iowa. The funeral Mass will be Tuesday, March 29, 2016, at 11:00 a.m. at St. Mary's Catholic Church in Danbury with Rev. Dan Greving officiating. Visitation will be at the church Monday, March 27 from 5:00 to 7:00 p.m. with a Vigil Wake service at 7:00 p.m. Armstrong Funeral Home of Danbury and Mapleton has been entrusted with the arrangements. The family is receiving condolences on line at www.armstrongfuneral.com.


Frank Louis (F.L.) Schrunk was born May 31, 1941, in the hospital in Battle Creek, Iowa, the son of Herbert and Lela (Otto) Schrunk. When F.L. was just a toddler, his mother passed. Later his father married Sylvina Mary Schimmer who then raised the family along with Herb. F.L. grew up on the farm and first attended Danbury Catholic School. He graduated from Danbury High School with the class of 1960. After high school he worked at IBP in Denison, Iowa.

On November 9, 1963, F.L. married Jane Gosch at St. Mary's Catholic Church in Danbury. The couple farmed east of Danbury and later moved to the family farm south of town. It was there that they continued farming and raised their three children. F.L. farmed both in grain and livestock production and was still farming in 2015 with the support of his son.

When time allowed, F.L. enjoyed playing cards in Danbury on Tuesdays. He attended the "University" in Danbury most every week day morning for coffee. F.L. was an avid golfer and member of Willow Vale Golf Course in Mapleton for many past years.

In past years F.L. enjoyed participating in the Mapleton Tractor Ride and helping at the Monona County Fair Tractor Pull. In recent years he found joy in attending his granddaughter's softball games and school activities.

Family members left to embrace their memories of F.L. are Jane, his wife of 52 years; two daughters, Tina Lords of Atlantic, Iowa and Tracy of Prescott, Arizona; one son, Damon and Laura and their daughter, Samantha of Danbury and Colton Frye of Utah; six sisters, Rachel Belt of Emerson, Nebraska, Sally Gassner of Arcadia, California, Janet Behrendsen and her husband, Ron of Council Bluffs, Iowa, Susan Taylor and her husband, Dan of Sioux City, Iowa, Jeanne Odens of Wakefield, Nebraska, and Laura Danay and her husband, Dave of East Moline, Illinois; two brothers and their wives, Paul and Carol Schrunk of Omaha, Nebraska and George and Jane Schrunk of East Dubuque, Illinois; one sister-in-law, Cheri Schrunk of Mapleton, Iowa; along with many nieces and nephews; and other extended family members.
Read More
Previous Events
Visitation
St. Mary's Catholic Church-Danbury
604 Peach Street
Danbury, IA 51019
Vigil Wake Service at 7:00 p.m.
Service
St. Mary's Catholic Church-Danbury
604 Peach Street
Danbury, IA 51019
St. Mary's Catholic Church 604 peach Street Danbury, Iowa 51019