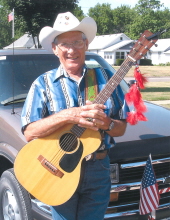 Obituary for Francis M. Hahn
Francis M. Hahn, age 84, of Mapleton, Iowa, died suddenly Thursday, July 4, 2019, at Burgess Health Center in Onawa, IA.

A Private Family Service will be held with Rev. Jena Finch-Manchester officiating. Inurnment will follow in the Mount Hope Cemetery of Mapleton, Iowa. The Armstrong - Van Houten Funeral Home of Mapleton, Iowa is in charge of the funeral arrangements. Condolences may be sent online www.armstrongfuneral.com.

Francis Milo Hahn was born in Mapleton, Iowa, to Herbert Max, Sr. and Lucile Genevieve (Hall) Hahn. He attended Mapleton Consolidated School. He furthered his studies and graduated from the American University in Georgetown, Washington.

Francis married his high school sweetheart and love of his life, Dona Jean Mapes on June 14, 1953. To this union three sons were born. Francis wrote about how they met.

HOW I MET MY LIFETIME FRIEND…..
I was attending church with my family and I saw a pretty girl walk in. She had long, black, curly hair and wore little white boots. I nudged my sister, Liz, and told her I was going to marry that girl. I was 11 years old at the time.

Nearing Christmas time I saw her again when we gathered in the church getting ready to practice for the Christmas pageant. Her cousin, Larry, was sitting next to me and I asked him to take her a note. It read, "I like you, do you like me?" She read the note, turned and shook her head – NO! But she smiled and I was determined to pursue this possibility. I managed to scrape up enough paper route money to put a box of candy under the church Christmas tree for her.

I was bagging groceries at the store next to the movie theater and saw her go to the movies on Saturday night when her folks came to town. I took her to the movies a few times and we became good friends.

When she was a freshman in high school and I was a sophomore, she was required to ask a boy to the FHA dance as part of her initiation in the school group. (Future Homemakers of America) She asked me and that did it!! Our friendship developed into going steady and a permanent relationship.

They were married 65 years this June.

Francis described his career in his own words as follows:
I entered the army through the National Guard Unit in Mapleton, Iowa, in 1953. I hadn't planned to but only agricultural deferments were being granted at that time.
I took basic training at Ft. Leonard Wood, Missouri, and moved to advanced artillery training at Ft. Hood, Texas. From there I was shipped to Korea for my first overseas assignment that was scheduled for 16 months in 1956. Due to the lack of available ships for our return in 1957 we were extended 30 days.

At that time Korea was very under developed and due to the politics involved, it had become a divided nation that consisted of North Korea (Communist) and South Korea (Democracy). I returned home and was assigned to Ft. Polk, Louisiana.

I had decided that if I was to be a career soldier I had to better my standing somehow so I could support my wife and family. I was accepted for helicopter pilot school and started training in Camp Wolters, Texas. The training school closed in 1959 and I had not completed training. I was then assigned to Ft. Lewis, Washington for several months. I had been promoted to Sgt. but the pay scale was still quite low. I applied for officer training at Ft. Benning, Georgia, and was commissioned a 2D Lt. of Infantry.

My next assignment found me in Ft. Sill, Oklahoma, with the 3D Infantry Brigade. After two years there I was assigned to Europe where I spent 3 years.

Upon completion of my assignment in Germany, I was lucky enough to get to go to the Officers Intelligence Career Course in Ft. Holabird, Virginia, located in Baltimore, Maryland.
At this time the Vietnam conflict was heating up and eleven of us volunteered for combat duty as it would look good on your record if you served. Personnel management told me I couldn't go as I had been selected for a stabilized assignment to the Pentagon.

I got into some highly classified work and was attached to the CIA for some special operations to be carried out in Vietnam. My first tour in Vietnam was working those operations.
I returned to the Pentagon and after 2 ½ years I was again assigned as Commander of Troops in Vietnam.

We were closing out of there and as all the troops left so did the unit flags. My flag was different than an actual unit flag and was sort of ignored. I retired my flag and brought it home myself. The last combat command flag flown in Vietnam.

I retired from the army February 1, 1976.

After retirement Francis returned to his hometown and found enjoyment with many different hobbies that included horses, motorcycles, flying air planes, poetry and writing, photography, leather work, rock collecting, hunting and fishing. Most notably, Francis enjoyed country music song writing and singing.

Survivors include his wife, Dona Jean Hahn of Mapleton, Iowa; sons Mike (Gloria) Hahn and Mark (Nancy) Hahn both of Mapleton, Iowa; Five grandchildren Melissa (Hahn) and Ryan Holverson of Sloan, Iowa, Erin (Hahn) and Ronney Piester of Sioux City, Iowa, Dale Hahn and fiancé Kyla Collison of Onawa, Iowa, Ryan and Katie Hahn of Sioux City, Iowa, and Courtney Hahn of Mapleton, Iowa; Seven great-grandchildren Lauren and Jay Holverson, Avery and Finnegan Piester, Lilly Hahn, Trenton Fuentes and Lydia Hahn; brother Herbert Hahn Jr. of Omaha, Nebraska; sisters Juanita Bachmann of Denison, Iowa, Elizabeth Brooks of Colorado, and Shirley Bertin of Montana.

Francis was preceded in death by his parents; son Cliff Hahn; brothers Henry Hahn and Norman Hahn; sisters Pauline Botsford and Genevieve Rickert.
Read More