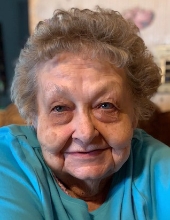 Obituary for Fran Mitchell
Fran Mitchell, age 93, of Hornick, Iowa, passed away on Saturday, April 1, 2023, at her residence of Hornick, Iowa.
A Mass of Christian Burial will be held at 10:30 a.m., Wednesday, April 5, 2023, at the St. Joseph Catholic Church of Salix, Iowa. Father Michael J. Erpelding will officiate. Committal services will follow in the Willow Township Cemetery of rural Hornick (Holly Springs), Iowa.
A Visitation will be held from 5:00 p.m. until 7:00 p.m., with a Rosary at 6:45 p.m. and a Vigil Service at 7:00 p.m., on Tuesday, April 4, 2023, at St. Joseph Catholic Church of Salix, Iowa.
The Armstrong - Van Houten Funeral Home of Mapleton, Iowa, is in charge of the funeral arrangements. Condolences may be sent online www.armstrongfuneral.com.
There will be a Facebook Live of the funeral service on the Armstrong-Van Houten Funeral Homes & Monuments Facebook page: https://www.facebook.com/armstrongfuneral
Frances Marie Mitchell was born to Adolph and Mayme (Krcma) Jonas on February 9, 1930, on a farmstead near Clarkson, Nebraska. Her family moved to Schuyler, Nebraska, when she was two. Fran graduated from Schuyler High School in 1947 and obtained her RN degree from St. Elizabeth School of Nursing in Lincoln, Nebraska, in 1950.
On March 15, 1951, Fran was united in marriage to Lyle Mitchell at the St. Mary's Catholic Church in Lincoln. To this union nine children were born. After Lyle returned from the service, he, Fran, and Kathy Jo moved to Lyle's family farm northeast of Hornick, Iowa, where she spent the rest of her life.
Fran worked as an RN at the Battle Creek and St. Joe's/Mercy Hospitals. She was one of the first Surgical RNs at Mercy to obtain her operating room nurse certification (CNOR). Fran taught at WITCC in the OR Tech program. She retired from Mercy in 1992.
Fran had many hobbies which included sewing, embroidering, making wedding cakes, playing cards, cheering on her Nebraska Cornhusker football team, enjoying her grandchildren and great-grandchildren, watching the sand hill cranes in Nebraska, and serving as a 4-H leader. A favorite pastime was continuing her Bohemian-Czech heritage by baking, with her kolaches being a family favorite.
Fran was very active in her community. She served as President of the American Legion Auxiliary (ALA) Post No. 492 for several years. She also served as a 9th District ALA President and Treasurer. Serving as the Iowa ALA Girl's State RN for 20 years was something she was very proud of. Fran was a member of the St. Phillip's and St. Joseph Catholic Churches.
Fran and Lyle started the Compassionate Friends Chapter in Sioux City, Iowa, in 1980 after losing their son in 1979. They comforted and reached out to many parents and families who had lost a child. The couple was very instrumental in getting the current Westwood Community School building bond passed in 1986 after numerous failed school bond elections previous to that.
She is survived by five daughters: Kathy Jo Mitchell of Denver, CO, Mary (Dean) Fischer of Sergeant Bluff, IA, Diane Peterson of Sloan, IA, Carol Benjamin of Hornick, IA and Bonnie (Scott) Taylor of Westfield, IA; three sons: Chris (Jodi) Mitchell of Sloan, IA, Scott Mitchell of Hornick, IA and Lee (Janice) Mitchell of Hornick, IA; 25 grandchildren and 48 great-grandchildren; sisters-in-law Cary Jonas of Austin, TX, Gloria Jonas of Fergus Falls, MN, Verona Mitchell of Hamburg, IA and Roma (Bob) Rhodes of Friend, NE; brothers-in-law Donnie (Maggie) Mitchell of Roca, NE and Daryl (Carolyn) Mitchell of Hickman, NE.
She was preceded in death by husband Lyle; son Gregg Mitchell; parents Adolph and Mayme Jonas; parents-in-law Glen and Alice Mitchell; grandchild Lynn Mitchell; great-grandchild Gavin VanDriel; brothers Jack and Jim Jonas; sister Delores (Tim) Keenan; brothers-in-law Harold Mitchell and Wayne (Velva) Mitchell.
Read More
Previous Events
Visitation
St. Joseph's Catholic Church
510 Tipton Street
Salix, IA 51052
Rosary Service at 6:45 p.m. Vigil Service at 7:00 p.m.
Service
St. Joseph's Catholic Church
510 Tipton Street
Salix, IA 51052