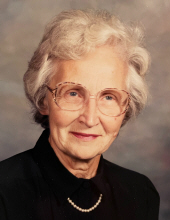 Obituary for Evon V. Blakely
Evon V. Blakely, age 90, of Mapleton, Iowa, passed away on Wednesday, January 19, 2022, at the Maple Heights Nursing Home of Mapleton, Iowa.

A Celebration of Life service will be held at 10:30 a.m. on Saturday, May 7, 2022, at the Armstrong-Van Houten Funeral Home of Mapleton, Iowa. Pastor Karen Handke will officiate. A Visitation will be held one-hour prior to the service from 9:30 a.m. to 10:30 a.m., on Saturday May 7, 2022. The Armstrong - Van Houten Funeral Home of Mapleton, Iowa, is in charge of the funeral arrangements. Condolences may be sent online www.armstrongfuneral.com.


Evon Vera Blakely was born November 18, 1931, in Monona County, Iowa, to parents Leo and Alice (McClatchey) Chandler. Evon lived primarily in Monona County for the majority of her 90 years, with her last five years residing at Maple Heights Nursing Home in Mapleton, Iowa, until her passing on January 19, 2022. Evon was the second eldest of six siblings.

During her high school years, Evon lived with a loving family, George and Luella Dean, along with their two daughters, Georgia Dean Scheer and Korleen Dean Hall. Evon graduated from Mapleton High School in 1951.

She married Warren Nepper in December 1951, residing on a family farm outside Mapleton with their three children: Linda, Michael and Donna. Evon and Warren divorced in 1962. Evon was an active member of St. John's United Methodist Church where she taught Sunday school and attended church regularly with her children. She also served as a Girl Scout leader and was a member of Eastern Star.

Evon remarried 15 years later on February 12, 1977, to Gail Blakely where they lived on a farm outside Rodney, Iowa, until Gail's death in 1997. Evon moved to the town of Rodney and was an active member in the community, attended the United Church of Christ, and served on the Town Council for many years. She enjoyed gardening, baking delicious breads and cinnamon rolls, and was an avid walker and bowler for many years. Evon worked outside the home in various jobs, but most people will recall her as a farmer's wife, dedicated mother, and excellent housekeeper.

Evon was preceded in death by her husbands: Gail Blakely and Warren Nepper; son Michael Nepper; daughter Linda Nepper Gosch; grandson Quintin Nepper; brothers Alton, Leo "Duane" and Vernon Chandler; sisters Genevieve Hamilton and Gloria Torres.

She leaves behind a daughter Donna (Ray) Jacobs of Prescott, AZ; daughter-in-law Linda Handke Nepper of Oto, IA; son-in-law David Gosch of Charter Oak, IA; brother James (Bobbie) Chandler of Forsyth, MT; sister-in-law Joan Chandler of Castana, IA; 5 grandchildren and 8 great grandchildren; along with many nieces, nephews, and caring friends.
Read More
Previous Events
Visitation
Armstrong - Van Houten Funeral Home - Mapleton
210 South 5th Street
Mapleton, IA 51034
One-hour prior to the service
Celebration Of Life
Armstrong - Van Houten Funeral Home - Mapleton
210 South 5th Street
Mapleton, IA 51034