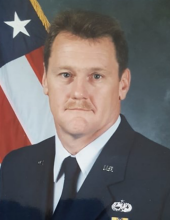 Obituary for Ernie Charles Devlin
Ernie Charles Devlin, age 58, of Colstrip, Montana, passed away on Thursday, April 4, 2019, surrounded by his family in a Billings, Montana hospital.

A Graveside Service will be held at 1:00 p.m., Saturday, June 15, 2019, at the Memorial Park Cemetery of Sioux City, Iowa. Rev. Sheryl K. Ashley will officiate. Military Rites will be conducted by the United States Air Force. The Armstrong - Van Houten Funeral Home of Anthon, Iowa is in charge of the funeral arrangements. Condolences may be sent online www.armstrongfuneral.com.

Ernie Charles Devlin was born in Escondido, CA on December 8, 1960 to Ernest D. and Jennie (Smith) Devlin. He attended Crestmore High School in San Bruno, CA and graduated from Escondido High School in Escondido CA in 1979. He graduated from Ashford College in 2015 with highest honors.

Ernie joined the Marine Corps in December 1979. He married the love of his life Roxann
Backer-Devlin, on June 25, 1982. Together, they welcomed their first daughter, Taima, in June
1984. Ernie left the Marine Corps in September 1984 and joined the Air Force on February 14,
1985. Ernie and Roxann welcomed twin daughters, Tarah and Torey, in January 1986. They
experienced military life together as Ernie was stationed at USMC Base El Toro, CA, Edwards
AFB, California, Hahn AFB, Germany, Spangdahlem AFB, Germany and Minot AFB, North Dakota.

Ernie retired from the Air Force after 23 years of loyal service to his country in June
2003 After retiring, Ernie worked at Well's Enterprises in LeMars, Iowa for 5 years. He and
Roxann moved to Colstrip, Montana in the summer of 2008 where Ernie worked for PPL
Montana as a trainer until the time of his passing. Ernie passed peacefully surrounded by his 4
greatest blessings, his wife and 3 daughters.

In addition to his great love for his family and friends, Ernie had a deep love for his country. He was deeply honored to have served his country for 23 years. He enjoyed his work with PPL Vets and was proud to call his fellow Marines and Airman brother and sister. His military family was as important to him as his biological family. Ernie was thankful for everyday that he was given and lived his life to the fullest.

During Ernie's time in the military he served as a youth coach for many sports. To him the wins and losses were not important, he was more concerned about helping to enhance the lives of his athletes. Wrestling was his passion and he shared it with many young wrestlers. As well as coaching he supported his daughter's efforts in sports and all their other endeavors.

Ernie was more than a husband, father, brother, uncle and grandfather, he was a friend to many. He never met a stranger and treated everyone as if they were a part of his family. Ernie would give the shirt off his back to anyone in need and tried to have a positive attitude at all times. He always looked for the best and brightest in every situation and would help others see it as well. He was truly a superhero who now has wings under his cape.

Ernie had a special bond and love for his grandchildren. He enjoyed spending as much time with them as he could. His grandchildren thought of him as "the best and greatest Papa ever."
His love for life and family will continue to live on through his family.

Ernie is survived by his wife, Roxann M. Backer-Devlin of Colstrip, MT; his daughters, Taima
(Brian) Randall of Panama City, FL, Tarah (Sean) Lawler of Defiance, IA and Torey (Tony) Hill of Kingsley, IA; 8 grandchildren, Jayden, Karah, Easton, Kaidynce, Kayleigh, Teagan, Searah, Rhyker; brother John (Ann) Devlin of NY; and 3 nephews.

He was preceded in death by father, Ernest D. Devlin; mother, Jennie Devlin; brothers Jack Smith, David Cammock and Robert Devlin; 2 grandsons, Bryton and Brenden; and one nephew.
Read More
Previous Events
Graveside
Memorial Park Cemetery
6605 Morningside Ave.
Sioux City, IA 51106