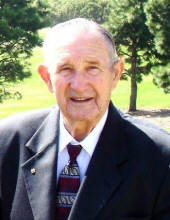 Obituary for Elwood H. Nagel
Elwood Hall Nagel, 94, of Mapleton died Friday March 10, 2017 at Maple Heights Nursing Home in Mapleton, Iowa.
Services will be 1:00 p.m. Saturday, March 25, 2017 at St. John's United Methodist Church in Mapleton, Iowa with the Rev. Dr. Gary Armstrong and Rev. Jena Manchester officiating. Visitation will be held one hour prior to the service Saturday March 25, 2017 at the St. John's United Methodist church of Mapleton, Iowa. The Armstrong Van Houten-Funeral Home of Mapleton, Iowa is in charge of the arrangements. Condolences may be left online at armstrongfuneral.com.


Elwood H. Nagel was born on November 14, 1922 to Karl and Evelyn (Hall) Nagel. He was the middle of 3 children. He was born and raised in Grant Center, IA and graduated from Smithland High School in 1940.
He married Myrna Cox in 1942. They lived in the Ticonic, Iowa area for 27 years, where Elwood farmed and Myrna was a housewife. They had three children, Lynn, Laurel and Kim. Elwood moved to Mapleton in 1987. He married Rose Riddle in 1981. They were divorced in 2010.
In 1969 Elwood fulfilled his dream to be a truck driver so he could travel the country. He attended truck driving school and became a long haul trucker for 15 years during the winters when he couldn't farm. Spring through fall he continued to farm his land until 1987 at which time he turned over the farming operations to his trusted friend Larry Teel, who continues to farm the land to this day.
His children love to recall his many colloquialisms . One of his favorite expressions was "When I was born I was sentenced to a life of hard labor". Another was "There's more than one way to skin a cat." He was an accomplished welder and was one of the first farmers in the area to build and adapt his farm equipment to be able to plant more seeds per acre. He was always seeking out creative ways to improve his farming productivity.
Over the years he served as a member of the Mapleton School Board, as President of the Monona County Farm Bureau, as well as being active in the local Masonic Lodge and The Shriners. He was a lifetime member of Ticonic UMC church and was proudly involved in the reconstruction of the Church in the 1960's. His faith was very important to him.
Elwood always maintained a strong curiosity for the world, which led his to be an avid reader and traveler both home and abroad. Throughout his entire life he loved to talk about all of the interesting people he met through his travels. Education was always important to him and one of his favorite books was the encyclopedia.
After retirement Elwood bought and sold houses and antiques. He relished finding "good deals". He maintained active involvement in the farm and crops for many years after retirement.


He moved into the Maple Heights Nursing Home in 2012. It soon became obvious to the staff that this was a man who couldn't tolerate idle hands, so they put him to work with volunteers in the kitchen. As with all his jobs throughout his life, he took great pleasure and pride in his new responsibility. He was fortunate to have his sister Mary as his dinner partner for several years and always enjoyed visits from family, friends, and staff.
Elwood never lost his zest for learning. His greatest joy and pride in life were his children and grandchildren and he proudly taught them all how to bake his favorite scotch cookies, an old family recipe that will be carried on for generations.
Survivors include his daughter, Laurel (Nagel) Armstrong and her husband Gary Armstrong of Clive, Iowa; sons, Lynn of Portland, Ore., and Kim and his wife, Jeanne McDonald of Brandon, Miss.; six grandchildren, Jackie Haddon and husband Blair of Portland, Ore., Andrea Armstrong of Clive, Iowa, Ryan Armstrong and his wife Connie of Johnston, Iowa, Avery Primeau and her husband Scott of Littleton Colo., Corey Nagel and his wife Jeanette of Denver, CO and Kellyn Nagel of Littleton, Colo.; great-grandchildren, Calid and Aniston Armstrong, and step-grandchildren Reece and Trenton Cracraft of Johnston, IA, Kai, Ian, and Natalie Haddon of Portland, OR., and Louisa and Daisy Primeau of Littleton, CO.
He was preceded in death by his parents, his brother Harold Nagel, and his sister and a brother in-law Mary and Everett Woodward.
Elwood's family would like to extend a thank you to the many staff of Maple Heights Nursing Home who helped him during his final years.
Read More
Previous Events
Visitation
St. John's United Methodist Church
212 S 7th Street
Mapleton, IA 51034
Memorial Service
St. John's United Methodist Church
212 S 7th Street
Mapleton, IA 51034