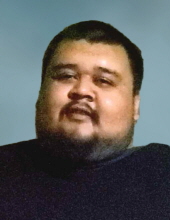 Obituary for Eduardo "Eddie" Lepe
Eduardo "Eddie" Lepe, age 27, of Smithland, Iowa, passed away on Sunday, July 25, 2020, at his residence of Smithland, Iowa.

A Mass of Christian Burial will be held at 1:00 p.m., Friday, August 14, 2020, at the St. Mary's Catholic Church of Mapleton, Iowa. Father Richard D. Ball will officiate. Committal will follow in the St. Mary's Catholic Cemetery of Mapleton, Iowa. A Visitation will be held from 11:00 a.m. to 1:00 p.m., Friday, August 14, 2020, with a Rosary Service at 12:30 p.m. at the St. Mary's Catholic Church of Mapleton, Iowa. Due to the COVID-19 pandemic, masks are encouraged and social distancing rules apply. The Armstrong - Van Houten Funeral Home of Mapleton, Iowa is in charge of the funeral arrangements. Condolences may be sent online www.armstrongfuneral.com.

Son, brother, uncle, brother-in-law, and friend, Eddie, we love you and will miss you. We have faith that you are in heaven with dad now. May he rest in peace in God's Glory, in eternal peace.

Eddie, as he was known, leaves behind his mother, Celia; five sisters: Maria Isabel (Nicolas), Evangelina, Raquel, Celina (Raul), and Maura; two brothers: Adon and Margarito; 12 nieces and nephews: Jonathon, Stefanie, Maria Del Rosario, Jose Luis "Jr.", Violeta, Liliana, Joshua, Shaila, Emily, Crystal, Cristina, and Sebastian; aunts, uncles, cousins, and friends that became family.

He was preceded in death by his father Florencio "Lencho" Lepe-Cortez.

Eddie was called to join our Lord too soon for us, but in time for him to be reunited with our Lord. Eddie was the second youngest of the siblings and his siblings always referred to him as "our little brother." He was born in Sylmar, California and went to Vaughn Street Elementary, San Fernando Middle School and San Fernando High School.

You can say that Eddie had two mothers, his mother Celia and the oldest of the siblings, Maria Isabel. Eddie always referred to Maria Isabel as his second mother, and she loved him as her very own. He also respected his brother-in-law, Nicolas, as he mentored him and listened every time he needed to talk. His sister Eva, held a special place in Eddie's heart as she helped mentor him growing up. He and Raquel had a brotherly love/hate relationship, but loved each other very much and knew they could count on each other. Eddie had a nickname for Raquel, "trapisio" inside joke for them. All his siblings held a special place in Eddie's heart. He made that very clear if you had the pleasure of having a heart-to-heart with him.

Eddie had a very special bond with little sister, Maura. Growing up Eddie and Maura often told people that they were twins. Being only one year apart that was an easy thing to do. They were always together, in good times, bad times, fun times and knew that they could encounter whatever comes their way together. They conspired with each other when they were little to do their shenanigans, "traviesos", just to get a laugh. Eddie and Maura were each other's light, being the two youngest of the siblings with a big gap from all the others, their bond was special and they were each other's heart. He also had a special nickname for Maura, he called her "machete" his ride or die partner. If they ever argued it was for 30 seconds and then back to being happy with each other. He did have a favorite nephew, Sebastian. Sebastian and him spent every minute they could with each other. He loved and protected Sebastian as if he was his own son. He loved all his nieces and nephews, but we all know Sebastian was the favorite one.

Eddie started to work at a very young age. He found himself doing what his dad did, working with horses. He worked at a ranch in Santa Clarita, California, where he was loved by everyone. He was gentle with the horses and he always said there was a special connection made with the horses. Eddie took care of them and transported them when needed for shows. He spent all of his extra time riding horses. Eddie wanted to follow in his father's footsteps and learned a lot from him.

About six years ago, Eddie helped his parents move from California to Smithland, Iowa. At first he said he was just going to help them settle in, but then he decided to stay. He made Smithland, Iowa, his home for the past 6 years. In Iowa Eddie could no longer work with horses, so he had to explore other jobs and find his way. Eddie had talent and lately he had begun to explore that. He started building chairs and made a few tables out of wood. He had so many plans to build things. Eddie loved to cook and looked up recipes and tried them until he got it right. He was a good cook and his food was delicious! He loved to keep his family entertained; he was SO FUNNY! Eddie was like a big kid in a man's body. We loved that side of him, funny, entertaining, lovable big teddy bear. We often joked and would tell him to have a podcast as he had so much to say, he made so many jokes. He was very smart and knew so much. That is how he would have liked to be remembered, silly, funny, happy Eddie! He takes a part of our heart with him, but we know his spirit lives in each and every one of us. We all loved him very much. Rest in peace Eddie.
Read More
Previous Events
Visitation
St. Mary's Catholic Church Mapleton
201 N 8th Street
Mapleton, IA 51034
Rosary Service at 12:30 p.m.
Mass of Christian Burial
St. Mary's Catholic Church Mapleton
201 N 8th Street
Mapleton, IA 51034
Cemetery Details
Location
St. Mary's Catholic Cemetery
Mapleton, IA 51034