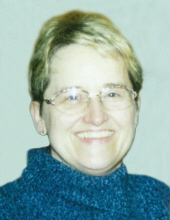 Obituary for Dr. Sandra J. Van Drie-Yockey
Dr. Sandra J. Van Drie-Yockey, age 61, of Anthon, Iowa, passed away on Friday, June 1, 2018, at her residence of Anthon, Iowa.

A Funeral Service will be held at 10:00 a.m., Wednesday, June 6, 2018 at the St. Paul Lutheran Church - Midway rural Battle Creek, Iowa. Rev. Marty Davis will officiate; with Committal Services following in the Oak Hill Cemetery of Anthon, Iowa. A visitation will be held from 5:00 p.m. to 7:00 p.m., Tuesday, June 5, 2018 at the Armstrong - Van Houten Funeral Home of Anthon Iowa. The Armstrong - Van Houten Funeral Home of Anthon, Iowa is in charge of the funeral arrangements. Condolences may be sent online www.armstrongfuneral.com.

Dr. Sandra Jayne Van Drie -Yockey, the daughter of Louis and Shirley (Boomker) Van Drie, was born on October 9, 1956, in Sibley, Iowa. Sandra was raise on a farm by Ocheyedan, Iowa and the family relocated to Rockwell City, Iowa, where she graduated from Rockwell City High School with the class of 1974. She continued her education at Northwestern College and graduated with a degree in music and business education in 1979.

Sandra started teaching at Ar-We-Va High School and went on to study business education and vocational education, earning her Masters of Arts Degree in 1984 from the University of Northern Iowa. In 1986, Sandra moved to Calmar, Iowa and started working for Northeast Iowa Community College. She was a department chair, instructor, administrator and advisor until 2007.

On July 1st, 2006, Sandra married Kevin Yockey in Columbia, Missouri and the couple settled down in Anthon, Iowa. After getting settled into her new home, she started a career at Morningside College in their graduate program, where Sandra earned her Masters of Arts Degree in Teaching. In April of 2012, Sandra was diagnosed with endometrial and lymphoma cancer. After going in to remission, Sandra went on with her lifelong dream of obtaining her Education Specialist Degree in E-Learning in 2015 and then her Doctoral Degree in E-learning from Northcentral University in 2017. At the end of the year in December, Sandra was diagnosed with colon cancer.

Sandra's dream of being published come true in 2018, when her book entitled Increasing Response Rates for Student's Evaluation of Teaching, for an Online Graduate Program was published. On June 1, 2018, in the morning, Sandra went into the loving arms of her Lord and Savior at her residence of Anthon, Iowa.

Sandra's love of the Lord, education, music, life and everyone around her was contagious. The best way to describe Sandra, as you were a better person for having known her. She will be deeply missed and thought of often.

She was preceded in death by her parents Louis and Shirley Van Drie and sister-in-law Janis Van Drie

Left to cherish her memory is her loving husband Kevin Yockey of Anthon, IA; siblings Louis Van Drie Jr., Sheryl (James) Goodwin, Leroy (Mary) Van Drie, Lorin (Pam) Van Drie, Sharon Ricketts, and Sara (Bart) Rhoads; extended family and friends.
Read More
Previous Events
Visitation
Armstrong - Van Houten Funeral Homes - Anthon
402 East Brady Street
Anthon, IA 51004
Funeral Service
St. Paul Lutheran Church - Midway
2326 Story Avenue
Battle Creek, IA 51006