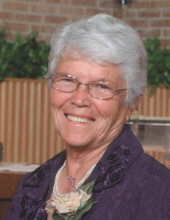 Obituary for Dona Jean "Jeannie" Hahn
Dona "Jeannie" Hahn, age 88, of Mapleton, Iowa, passed away on Sunday, January 15, 2023, at the Maple Heights Nursing Home of Mapleton, Iowa.
A Private Family Service was held at the Armstrong – Van Houten Funeral Home with Committal Services following in the Mount Hope Cemetery of Mapleton, Iowa.
The Armstrong - Van Houten Funeral Home of Mapleton, Iowa is in charge of the funeral arrangements. Condolences may be sent online www.armstrongfuneral.com.
Dona Jean (known to most as Jeannie) was born on September 16, 1934, in Omaha, Nebraska, to Albert and Esther (Foster) Mapes. Jeannie graduated from Mapleton Consolidated School in 1953. She married her high school sweetheart, Francis Hahn, on June 14, 1953. To this union three sons were born: Clifford, Mark, and Mike Hahn.
With a career in the Army beginning for Francis, the new family moved frequently. Due to the frequent relocation and many new homes, Jeannie took her job as homemaker seriously and became quite skilled at removing unnecessary walls. Even if Francis wasn't in agreement, he would come home to one less wall in the house.
Jeannie had many interests and hobbies over the years including raising horses, rock hunting/collecting, camping, quilting, needle work, crafting, crocheting, reading, and genealogy. Francis and Jeannie enjoyed many winters spent in southern Texas. They attended music jams and frequent trips to Mexico to get souvenirs for their grandchildren.
Spending time with grandchildren and great-grandchildren is what Jeannie truly loved most. They all referred to her as "Grandma Great".
Survivors include sons Mike (Gloria) Hahn and Mark (Nancy) Hahn both of Mapleton, IA; five grandchildren: Melissa (Hahn) and Ryan Holverson of Sloan, IA, Erin (Hahn) and Ronney Piester of Sioux City, IA, Dale Hahn of Sloan, IA, Ryan and Katie (Fuentes) Hahn of Sioux City, IA and Courtney Hahn of Mapleton, IA; seven great-grandchildren: Lauren and Jay Holverson, Avery and Finnegan Piester, Lilly Hahn, Trenton (Alex Beach) Fuentes and Lydia Hahn; great-great-grandson Bennett Fuentes.
Jeannie was preceded in death by her parents Albert and Esther (Foster) Mapes; husband Francis Hahn; son Clifford Hahn; sister Anna Lou Mapes; and brother Jackie Lee Mapes.
Read More
Cemetery Details
Location
Mt. Hope Cemetery
Mapleton, Iowa